As one of the fastest-growing industries, medical device manufacturing is driven by scientific advancements, rising geriatric population, increasing life expectancy, and government support for healthcare access programs. Additionally, emerging technologies, including the Internet of Things, machine learning, and artificial intelligence, have enabled medical device manufacturers to automate their product development and manufacturing processes. It is against this backdrop that the global medical devices market is expected to be worth $430 billion by 2020. However, given the rapid evolution in the medical devices market, increasing production costs, tighter regulatory environment, and the need for high-value resources and expertise, medical device manufacturers are challenged to remain competitive.
And to do so, medical devices companies are turning to outsource a significant portion of their manufacturing operations to established contract manufacturing organizations (CMOs). CMOs offer significant cost-benefits, access to sophisticated infrastructure, large production capacities, and minimal time-to-market. According to industry estimates, the global medical device contract manufacturing market is expected to grow from $55 billion in 2019 to $91.3 billion by 2024.
More recently, the major illness burden has also shifted from communicable to non-communicable diseases. It calls for new medical technologies capable of diagnosing and treating the evolving pattern of diseases.
The high capital expenditure of in-house medical device manufacturing with low returns on investment and the demand for ever-improving capabilities for new device development are the additional factors responsible for the increased outsourcing of manufacturing services.

Big players are turning to newer geographies
While countries such as the US, China, and Ireland have long dominated the global medical device market, OEMs today are exploring alternatives for contract manufacturing. This is driven by increasing geopolitical and economic challenges, such as:
High total costs comprising of raw material and labor costs
Increased supply chain complexities due to fewer suppliers catering to services across the value chain
Unfavorable trade policies
Rising import costs of devices that in turn drive local ecosystems growth
Issues related to IP protection
Need to accelerate time-to-market
Rapidly evolving technological landscape demanding high capital expenses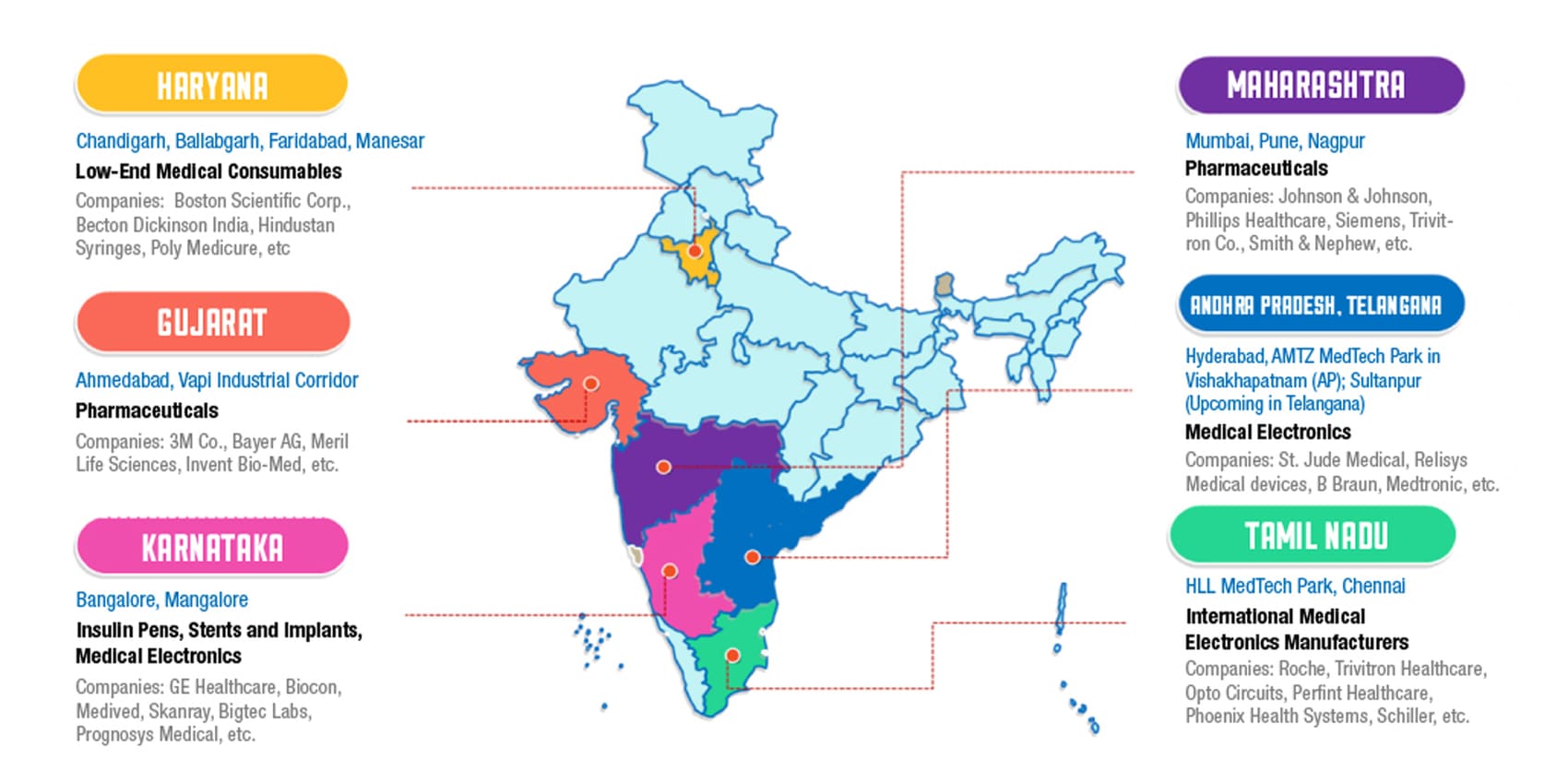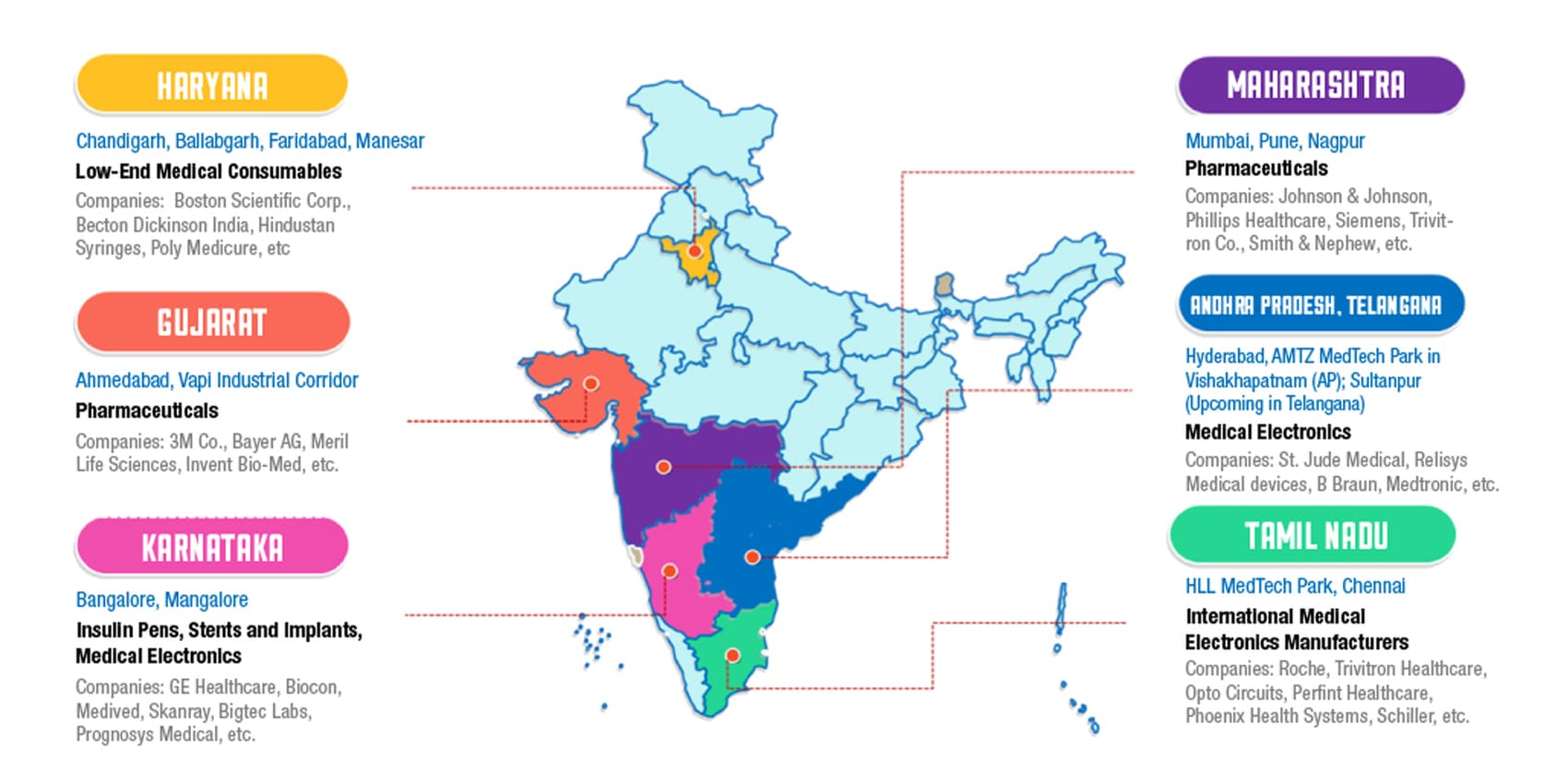 Image: Pharmaceutical and medical device hubs in India
India as a medical device manufacturing hub
The healthcare sector in India has rapidly progressed in the last decade. Today, the country is favorably positioned in the medical devices domain for outsourced contract design, development, and manufacturing. The focus on design-to-cost and a robust manufacturing ecosystem makes India a suitable destination for design-led-manufacturing of medical devices.
Here are five reasons why India is fast emerging as an ideal base for medical equipment manufacturing:
1. Presence of skilled resources
Global medical device OEMs are looking to collaborate with partners who have an established and proven expertise in product engineering. Additionally, an experienced and skilled workforce is required to develop and produce high-performance equipment. India has one of the world's most extensive base of engineers with proven domain expertise, knowledge of product lifecycle, familiarity with evolving design and technical tools, as well as the awareness of current manufacturing challenges along with bespoke technologies to address them.
Between 2009 and 2016, the Indian medical device industry grew at a CAGR of 15.8%, which is higher than the global growth rate for this domain. In addition to the 750+ private players, the sector has seen the establishment of over 250 health tech startups² in recent years. Such organizations thrive on the rich experience gained by their engineers through the growth period that has spanned a decade by now. An end-to-end engineering company supports its international partners across the entire product value chain and designs quality medical devices aligned to innovative production processes.
Excellent communication skills in English also make Indian teams easy to work with.


2. Government initiatives and support to the MedTech industry
Initiatives such as the Make in India program are focused on boosting manufacturing in the country, and the medical device industry is a primary beneficiary. Special programs and policies have been put in place that makes it easier to partner with Indian manufacturers, changing the perception of the government from that of a regulator to a facilitator. The country's unified taxation system of Goods and Services Tax (GST) also supportive of the medical device manufacturing sector.
The Government of India has also approved medical device parks to be set up in the states of Telangana, Andhra Pradesh, Tamil Nadu, and Kerala⁴ to offer a plug and play framework to companies looking to set up manufacturing operations in India. Such dedicated hubs will also enable easy access to standard testing facilities and reduce the cost of device production.
There is also a proposal to establish a National Medical Device Authority (NMDA) that will optimize manufacturing processes, control quality, manage costs, and support the development of medical device parks. This will further help boost medical device production within the sub-continent.


3. Cost-effective operations
Manufacturing of medical devices in India has substantial cost advantages due to lower raw material and labor costs. The nominal hourly wage for contract workers is $3 in India as compared to $9 in China. With its progress in deploying new engineering technologies, India is also well placed to effectively use complex, miniaturized, connected, and advanced materials that require sophisticated production processes.

4. Sensitivity to Intellectual Property rights and data security
With detailed contracts outlining data privacy and security, Indian engineering companies have established themselves as reliable outsourcing partners with a global presence.
There are regular audits for system procedures used in medical device manufacturing, and the operation policies are aligned to international requirements. Most of these organizations have robust, multilayer security systems to detect data theft and cyber-attacks.
Non-disclosure agreements, biometric access, server scans for penetration testing, VPN tunnels, encrypted computing devices, and advanced firewalls are hygiene norms in top manufacturing engineering companies.
India has signed the Trade-Related Aspects of Intellectual Property Rights (TRIPS) Agreement and amended its Patents Act 1970 to bring it in sync with TRIPS requirements. This involves the grant of product patents for medical devices and pharmaceuticals.

5. Robust ecosystem to support production
Machine learning technologies, AR/VR, and autonomous robotics and other smart manufacturing technologies have seen increased adoption. Manufacturing facilities are rapidly transforming with productive, innovative, and safer shop floors. Productivity is improved by leveraging proactive maintenance schedules to enhance equipment efficiency and testing proof-of-concept to identify the best combinations of technological processes and human interventions.
IoT has also played a significant role in improving supply chain management by enabling better tracking of assets. The raw materials coming-in are synced with production schedules and help to complete delivery commitments efficiently.
By partnering with an end-to-end engineering company in India, manufacturers also get the benefits of experienced resources, data analysis expertise, established processes, and a rapidly evolving manufacturing ecosystem. Such advantages lead to higher CMO maturity levels and better quality management systems, giving more reasons to develop a production base in India.
Given increased pressures that business and trade dynamics have placed on markets, the need for a partner who can help realize the true potential of your innovations without compromising quality or infringing on your IP rights cannot be understated. Cyient brings over 25+ years of experience in working with global OEMs in helping them realize their manufacturing goals. We empower MedTech manufacturers to scale production and bring down time-to-market by taking complete ownership of the entire product life cycle—from design, engineering to manufacturing.
Co-authored by Lijo Jacob, subject matter expert for design-led manufacturing in MedTech.
To learn more about our manufacturing capabilities in medical devices, click here.
Sources