Imagine you're a pilot trying to land a commercial aircraft over 200 feet long on a short runway, in the middle of a city, in the depth of the night, and in thick fog. You would rely heavily on Radio Detection and Ranging (RADAR) technology to safely guide and land the aircraft. Radar systems use electromagnetic technology for the detection and location of target objects such as aircraft, missiles, ships, spacecraft, vehicles, landmarks, people, and the natural environment.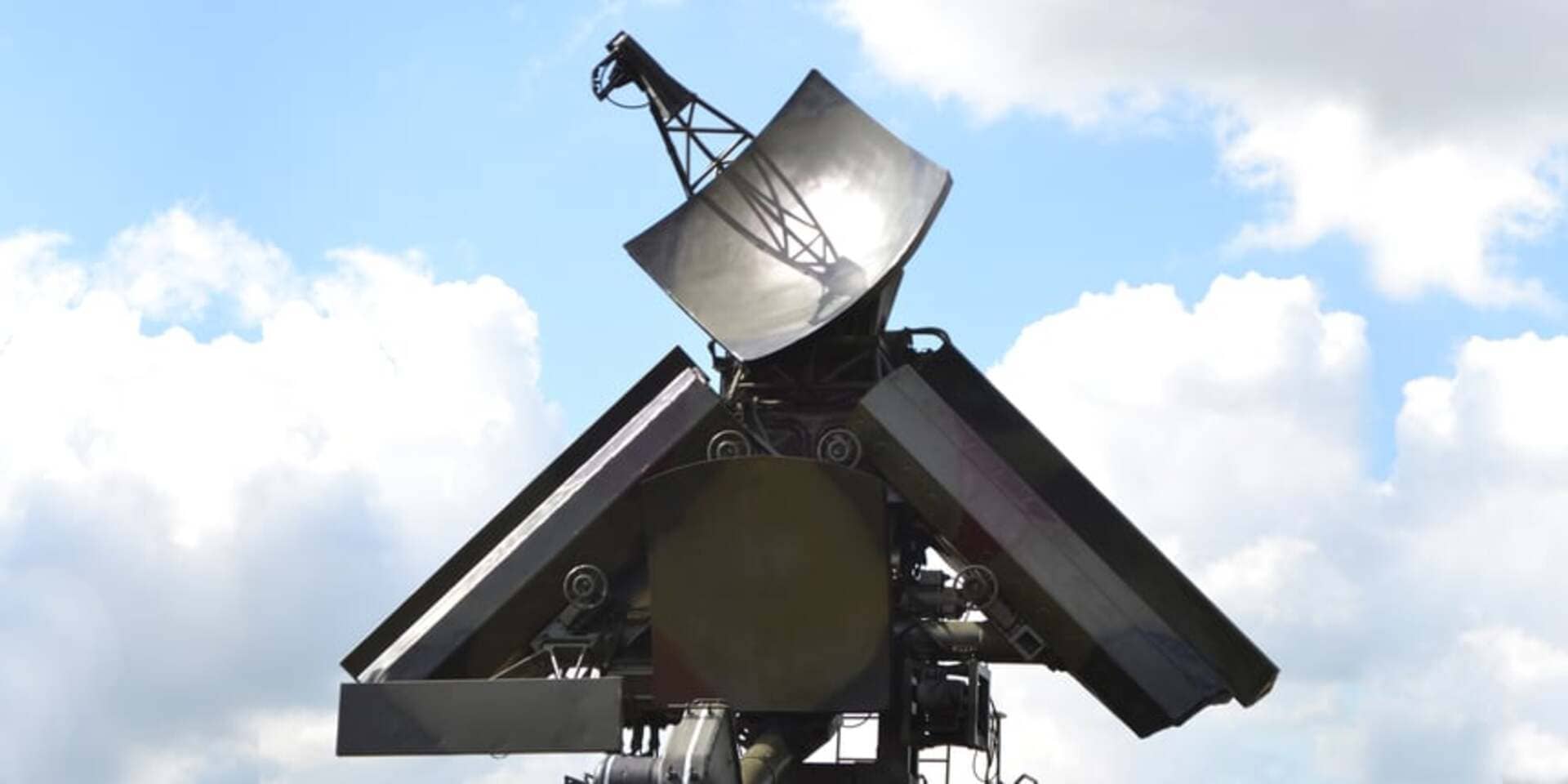 A ground radar for surveillance
Growth in commercial air travel, advanced missile technology, and increasing adoption of unmanned aerial vehicles continue to drive the demand for multi-functional airborne, ground, naval, and space radar architectures. Aspects such as frequencies, bandwidths, and resolutions continue to increase while platforms continue to shrink. OEMs around the world are turning to suppliers to address these requirements and reduce size and weight while increasing reliability for rugged applications. This all starts with the radar subsystem components and modules.
What is a Transmit Receive Module?
Transmit Receive Modules (TRMs) are the building blocks for Active Electronically Scanned Array or AESA radars and account for over 33% of normalized system production costs. TRMs are used in all radar bands and can be found in airborne, ground, and border surveillance applications. Conventional TRM manufacturing uses chip and wire-bond assembly processes that require specialized machines and skilled human resources. Additionally, TRMs are also subject to ITAR regulations, making export opportunities more difficult for OEMs.
Each TRM in an AESA radar behaves like a mini solid-state radar, connecting to an elementary antenna. In that, it mainly boosts the output power of the transmitted signal up to its final radiated power, establishes a system noise figure for receive, and provides beam steering control.
Based on the application, an AESA radar can be made up of anywhere between 10-100,000 TRMs. So, even if some of these TRMs fail, the overall functionality of the AESA radar is not compromised and its performance degrades only marginally, which is the primary reason for the radar's reliability.
TRMs provide the capability to electronically steer the beams and control radiated power. The main functions of the T/R Module are:
Amplify RF for transmission
Amplify RF for reception
Adjustment of phase and amplitude of the RF signals, both in transmit- and receive mode
Interface with radar electronics to steer beam and control power
Provide transmit and receive isolation

What are the challenges in designing an X-Band Transmit Receive Module?
The application of a Radar, its frequency and power requirements dictate what kind of TRMs are required.
An AESA radar that operates between 8 and 12 GHz frequency is an X-Band radar. The shorter wavelengths of the X-band allow for higher resolution imagery from high-resolution imaging radars for target identification and discrimination.
While designing an X-Band TRM one needs to:
Ensure a certain power output (determined by the power requirement of the Radar): A GaN-based Power Amplifier MMIC is known for its better power output as compared to the conventional GaAs-based approach.
Realize the design in the desired form factor controlled by antenna aperture. Connector-based TRMs have a higher form factor and weight as compared to a connector-less module.
Achieve consistent performance and qualification by lowering system temperature and noise figure.
Design for high reliability and availability. The critical components of a TRM are subject to ITAR regulations, making export opportunities more difficult for OEMs. Hence a design using a non-ITAR BOM is crucial.
Ensure low development and series production costs. For instance, conventional TRM manufacturing uses chip and wire-bond assembly processes that require specialized machines and skilled human resources and thus are costlier than surface mount technology.
Cyient's X-Band Transmit Receive Module for Radar Applications
Given the manufacturing complexities and export control regulations, standard TRMs available in the market today are extremely expensive. The Cyient X-Band TRM uses a COTS design approach that automates production processes and yields a 30% reduction in cost when compared to the industry standard TRM. The Cyient X-Band TRM is also designed using hybrid PCB technology and non-ITAR components enabling OEMs to exercise offset obligations.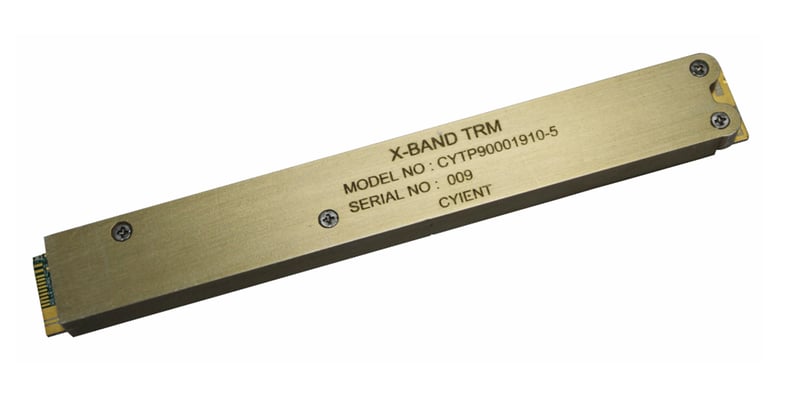 The lightweight, low-cost Cyient X-Band TRM
With a 20% reduction in weight, the Cyient X-Band TRM delivers:
3.5 dB noise figure
6-bit phase control
5-bit amplitude control
Digital control
Connector-less design
Weight: 20 grams
Click here to learn more about our TRM solution.