Even in times of economic stability, staying on top of remote factory operations and supply chains is challenging. The business case to implement digital projects that improve supply chain visibility and decision-making often boil down to two desired outcomes—saving costs or driving revenue growth. Many organizations fail to earmark investments toward risk reduction until they are faced with challenges that can have a severe impact on their customers and the public.
And today is probably that day.
We are in unprecedented times for business operations resulting from the coronavirus pandemic. Manufacturing facilities across the world are being forced to operate with a reduced workforce and stressed supply chains. Supply and equipment shortages are impacting critical services needed to care for the sick, enable the healthy to stay home and isolated for an extended duration, and provide essential services such as power, water, communications, and distribution. Essential services have also been redefined to include products from multiple domains. Goods that have longer shelf life are currently the fastest moving as the public stocks up, and the nature of transactions has become increasingly transient and dynamic.
Reliable Supply Chains are the Need of the Hour
Against this backdrop, more than ever, we require a reliable, adaptable, and responsive global supply chain. Almost suddenly, the ROI for risk mitigation is front-of-mind for suppliers and customers to ensure the maximum resources are available to our healthcare workforce, first responders, and the general public.
Typically, analyzing supplier risk has been primarily limited to understanding disruption in the context of M&As or businesses closing. The stress on the supply chain, with recent developments, has forced people to model scenarios that extend beyond dependence on a single supplier or hub. Businesses will need to exercise multi-sourcing strategies, identifying primary, secondary, and tertiary backup options making the supply chain more complex.
We saw the sharp impact of the coronavirus on global supply chains first in China, the world's top manufacturing hub, and the epicenter of the outbreak. According to the National Bureau of Statistics, China's Purchasing Managers Index (PMI) showed manufacturing activity dropped to a record low of 35.7% in February. The effect of this reduced output was felt across the globe before countries began dealing with the outbreaks of the virus themselves. Many businesses are looking at China to better understand the potential effect of the pandemic on the critical supply chains, especially to better source items key to contain the spread of the virus such as hospital equipment, supplies, and test kits.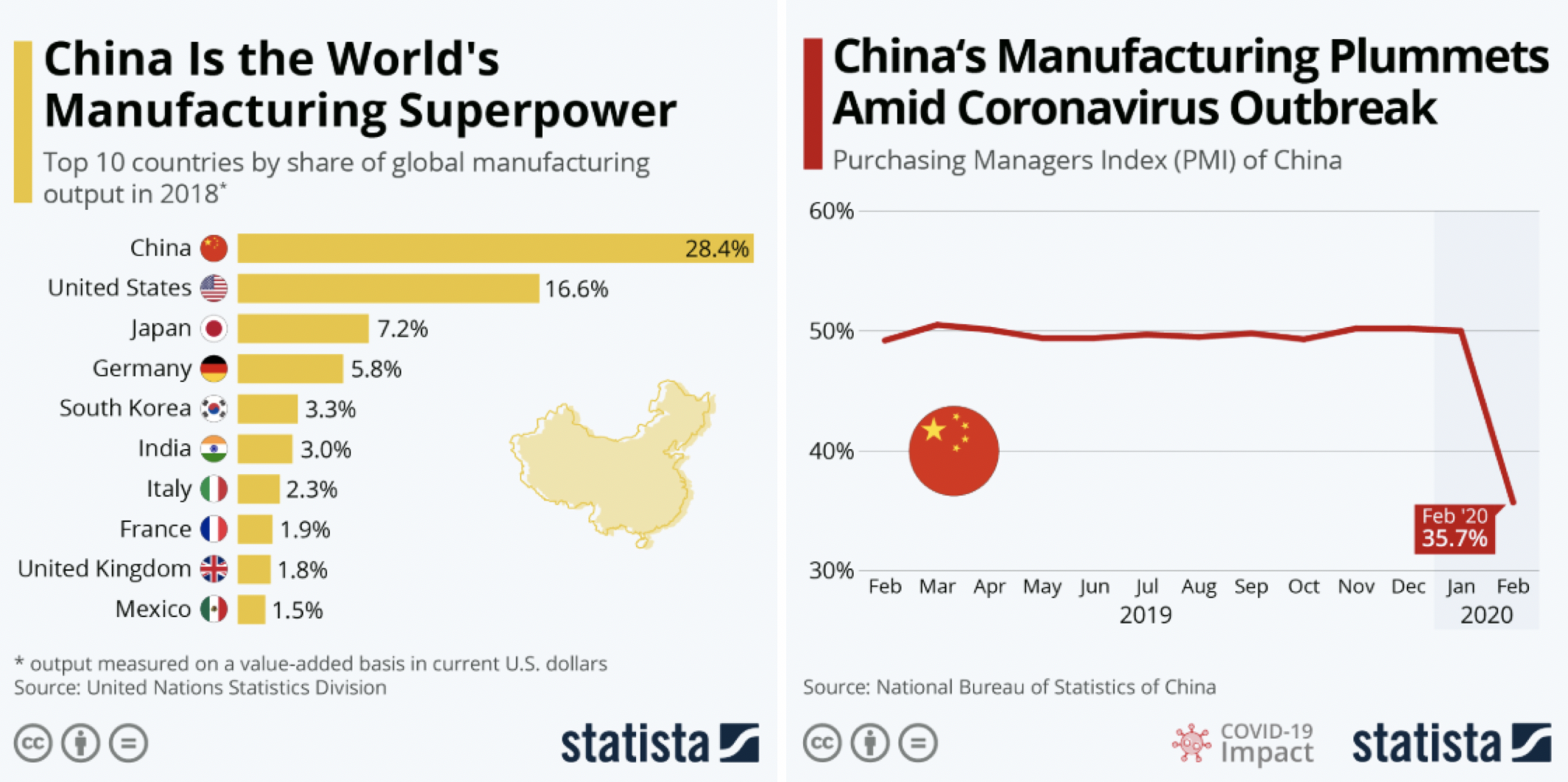 Figures 1 & 2: Impact of coronavirus to manufacturing output in China provides insight into potential global manufacturing impact
Source: Statista.com
What Businesses can Learn From this Disruption
Organizations that integrate IoT and machine data, historical data, and enterprise system data can make faster, insight-led decisions, isolate and quantify risk, develop more robust risk indices, move quickly, and minimize risks during this critical time. Analytics solutions around supply chain strategies can help organizations:
Model risk scenarios in production and distribution

Reallocate resources to vital and high demand products
Identify potential shortage scenarios
Predict possible production stop risk areas
Model the impact of production changes or reallocation of resources to increase output and reduce cycle times

Direct production capacity and inventory to critical needs

Supplies and personal protective equipment for hospitals, healthcare workers, and first responders
Medical equipment
High-demand household necessities
Cleaning, sanitizing, safety, protective equipment production
Customers supporting critical infrastructure and services

Review supply sources and reposition inventory

Exercise contingency plans for secondary sources
Identify alternative sourcing strategies to expand the supply
Evaluate positions to help reduce cost and improve delivery times
Shift excess inventory to other locations or to address different needs
Direct raw material away from risk areas or closer to critical need areas
Re-negotiating deals with vendors to reserve critical capacity

Communicate proactively up and down the supply chain
The World Health Organization and the World Bank are using their combined resources to analyze data and provide guidance to business and industry on where critical supplies can be directed to provide the most impact.
The World Economic Forum, in collaboration with the WHO, has created a COVID-19 Transformation Map (see Figure 3), for the collective sharing of information in the business and industry community to "integrate and inform joint action."
Figure 3: The World Economic Forum's COVID-19 Transformation Map
The initiative is possible because of the collection and use of data. Such data-driven solutions enable increased collaboration, more targeted communication, and faster action to solve complex challenges by establishing links across supply chains, industries, and organizations.
Using Advanced Technologies to Move Ahead
Algorithms and AI accelerators can help identify trends, triggers, dependencies, and gaps to inform decisions that optimize the supply chain and reduce risk.
With the accelerating number of COVID-19 cases, analyzing data, making decisions, and taking action to improve the supply chains is simply impossible without the technology to collect, integrate, analyze and act on relevant and critical information while weeding out the noise that can lead to delays and errors. In addition to analytics-based solutions for Supply Chain, customers are using data-driven solutions for:
Asset Tracking and Management to help supply chains optimize and communicate on the status of critical shipments. Critical assets such as ventilators can be monitored across hospital networks, regions, or countries to maximizing utilization and ensure equipment is located where it is most needed.
Predictive Maintenance algorithms can help identify risk to critical infrastructure or equipment so maintenance can make repairs before a failure occurs. Sensors data can flag machines before they overheat or identify dips in the power supply that could impact functionality.
Connected Equipment solutions enabled by IoT technology can provide visibility into manufacturing or field operations at a time when even local travel is limited or not allowed, and workers may be required to stay home.
Virtual and Augmented Reality solutions can help prepare the workforce with simulated training in a virtual environment or provide real-time information to workers in the factory, hospital, or out in the field. Network service providers are using augmented reality assisted maintenance applications to quickly troubleshoot and repair network issues to minimize disruptions and maintain quality of service for their customers.
In this time of crisis and uncertainty, organizations that use data for fast and effective decision-making are providing essential services so we can be more prepared for the unknown, support our stressed healthcare workforce and first responders, and stay safe.