Workforce our core strength
The core strength of any company, factory, or industry are its people or workforce. Christine Andrukonis rightly said, "Figure out where you get your power from and tap into that power." To tap into that power and, equally, to empower your workforce with the best tools, we can deploy technology in its various forms
At a personal level, we have seen how efficiently technology enables us to get live status of the cab/food/goods booked online. Similarly, technology enables us in our professional lives to drive efficiency and productivity. Let us take a deeper dive into technologies that are best suited for enabling the workforce.
Workforce enablement is the backbone of digital transformation in an organization. The prominent areas where the workforce can be enabled are environment monitoring, worker safety, worker health, worker ergonomics, and worker activity monitoring. These scenarios can be for indoor and outdoor environments based on the domain and type of industry. The Connected Worker scope can be broadly categorized into buckets as seen below: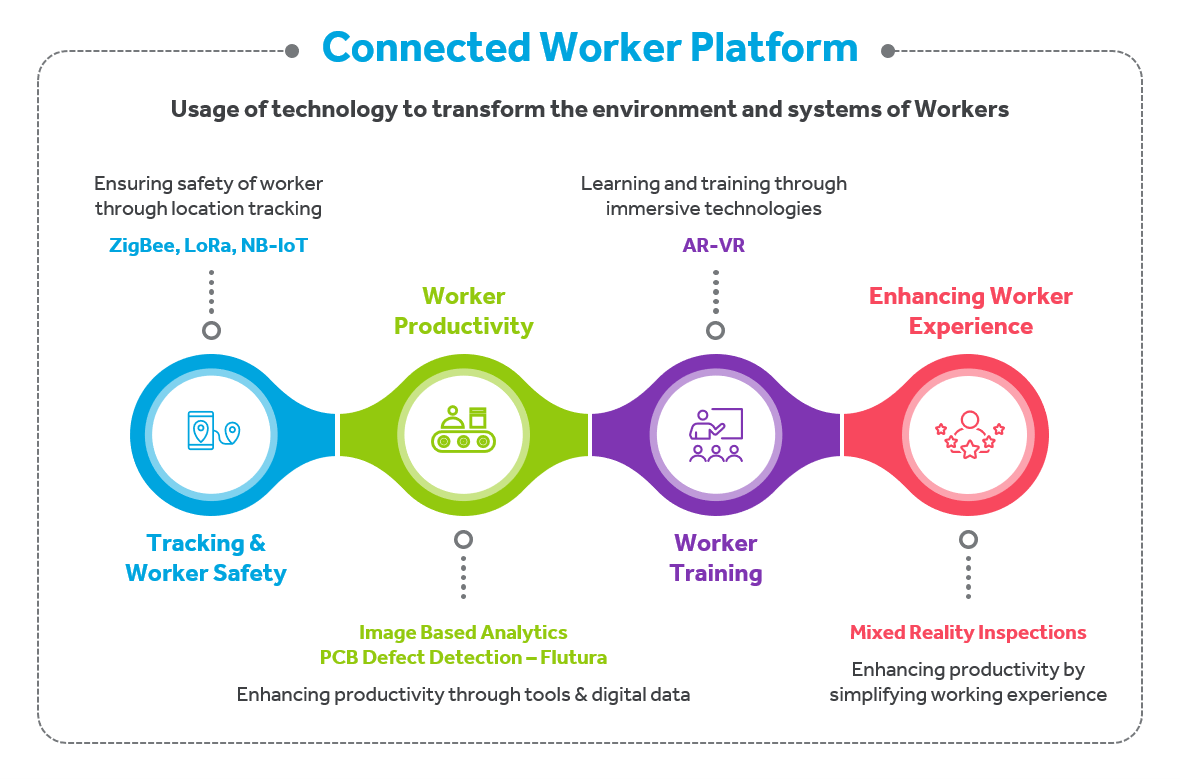 Broad Categories of Cyient's Connected Worker Solution
Which RF technologies are suitable?
Here, we will explore PAN (personal area network), LPWAN (low power wide area network) and cellular technologies for the purview of worker health and safety. But proposing the right solution needs a detailed study of the ambient conditions the worker is exposed to and other attributes that need to be monitored for enabling workers.
The devices used for capturing data around a worker in a high-risk industry domain such as nuclear, mining, airlines, defense, construction, or utilities are different from those used in medium-risk domains such as electrical/electronics, food and beverages, road, rail transportation, and telecommunications. The solution needs to comprehensively address some or all features depicted in the graphic below.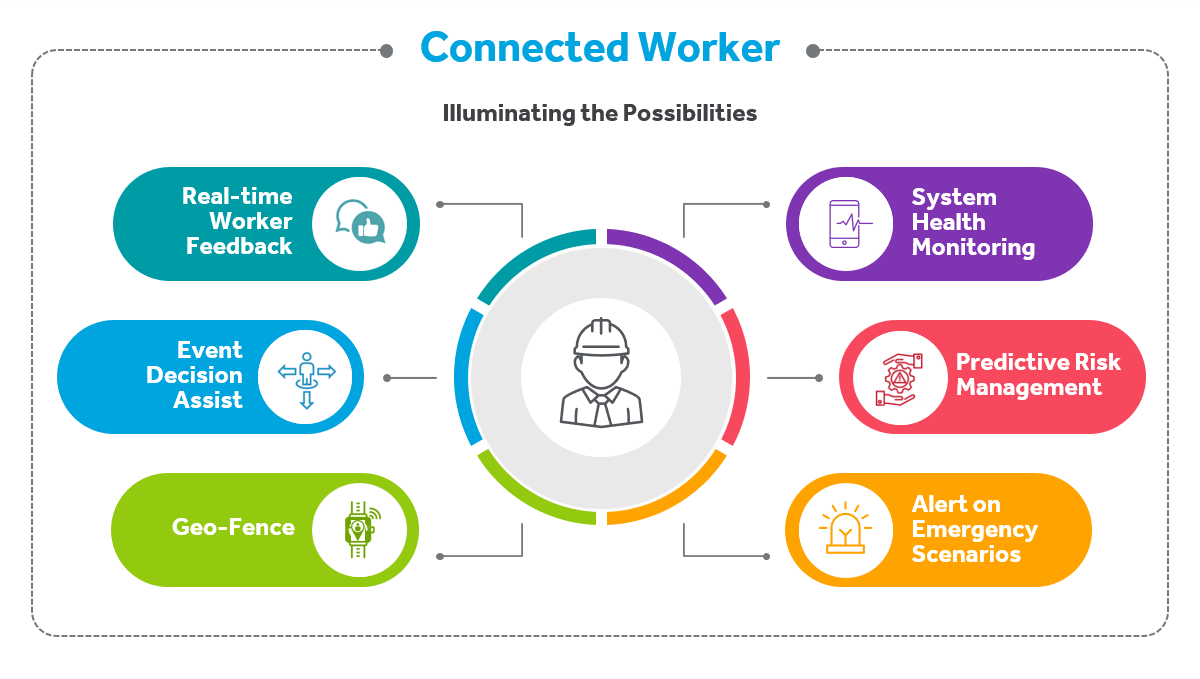 Connected Worker Solution Features
Framework for solution building
A bespoke solution consists of integrating pieces across four different layers: Connect (hardware); Integrate (firmware); Analyze (data to cloud); Act (through Web and mobile application layers).
The hardware layer involves building devices using a microcontroller with wired and wireless peripherals or using off-the-shelf devices and enabling them with firmware for collecting information on location, activity, and health attributes. Data thus captured needs to be processed at the edge layer to reduce the packet size and reduce the infrastructure at the cloud layer. The edge-processed data is then pushed to the cloud through secure (AES encryption over TLS) and standard protocols (MQTT).
RF technologies such as BLE and LoRa seemed to be more effective in our testing than NB-IoT, ZigBee, and RFID, which are good bets for stationary assets. BLE 4.2 was limited for low range and medium accuracy applications, while BLE 5.0 mesh, and BLE 5.2-enabled hardware proved to be a better bet for indoor and semi-outdoor scenarios. Tests at our seven-acre office campus, showed that BLE 5.0 over mesh was able to communicate up to 700 meters through one to three hops in out of line-of-sight conditions. The relays can be configured to ranges from 10 m to 70m. The technology comparison below helps in identifying the right RF for different scenarios.

Potential RFs—pros and cons
A combination of BLE and LoRa is a good bet for scenarios that need indoor and outdoor monitoring simultaneously. LoRa is good for low data transmission scenarios but has intermittent packet loss issues. This needs to be addressed with more robust firmware at device layer along with back up arrangements of last active data polled, etc.
Hence where the workforce needs to be monitored more closely, having BLE mesh as an add-on RF layer along with LoRa would circumvent the issue. The cost of the solution varies directly in relation to volume, accuracy, battery life, and coverage.
Cyient, with its IntelliCyient framework, helps its customers in building bespoke solutions that empower their workforce effectively and efficiently. Stewart Brand has famously said, "Once a new technology rolls over you, if you're not part of the steamroller, you're part of the road." Cyient acts as a catalyst in enabling companies to be part of the steamroller!
About the Author
Narendra is an Engineering Director and Industry 4.0 SME, and is part of the Cyient Digital business unit. He brings 20+ years of experience delivering positive outcomes for enterprises. At Cyient, Narendra is responsible for generating and developing ideas around I4.0 that transform into potential business solutions.