Cyient Collaborates with Microsoft to Create Mixed Reality Ophthalmic Education for LV Prasad Eye Institute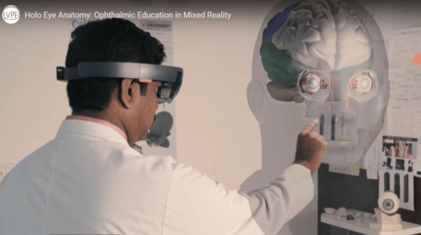 Mixed reality not only augments the learning experience by merging real and virtual worlds to give a visual framework but it is also a great way to learn about a given topic in greater detail. When applied to medical education, mixed reality has the potential to provide students a deeper insight into human anatomy and view it from inside out.
To buck the trend of using only traditional tools for learning, LV Prasad Eye Institute (LVPEI) partnered with Cyient to create a transformational learning experience for its students.
Cyient leveraged Microsoft's HoloLens to help healthcare professionals to go beyond two-dimensional learning and experience eye anatomy in three-dimensional models. It is based on the concept of using augmented reality, which is the integration of digital information with the user's environment in real time. Unlike virtual reality, which creates an artificial environment, augmented reality uses the existing environment and overlays new information on top of it.
This has enabled students to holistically study eyeball, ocular adnexa, and the visual pathway. At the same time, with the support of mixed reality, learners can split individual parts of an eye such as cornea into component layers and study them at the cellular level. For instance, in the case of cornea one can learn how it keeps its clarity and compactness by walking into the endothelial cells.
The Cyient Approach
Cyient leveraged its extensive engineering expertise to help LVPEI create a mixed reality learning environment and futuristic learning tools. The engagement started with artists rendering images of the model and creation of their three-dimensional models. We coded the models onto the device and then projected them through the HoloLens. This helped to convert classrooms into mixed reality environment and to reinforce immersive training experience.
The use of augmented reality to enable the detailed study of human anatomy can also be applied to other sectors in which Cyient has a presence. For instance, we see a great amount of potential for aspects of inspection, repair, reliability, inventory domains of communications, utilities, railway transportation, aerospace & defense, and industrial energy & natural resources sectors.