The Age of Electric Vehicles (EVs)
In the current decade, automakers have come to acknowledge that electrification is the only way to achieve compliance, either with CO2 regulations or with EV quotas, and avoid paying billions of dollars in penalties. Investment roadmaps for e-mobility over the next few years are already upwards of $300 billion, and a range of new products are being developed to support wider consumer choice. Frost & Sullivan projects electric offerings to comprise up to 30-50% of OEMs' product lineups by 2025 and higher in the case of some premium OEMs.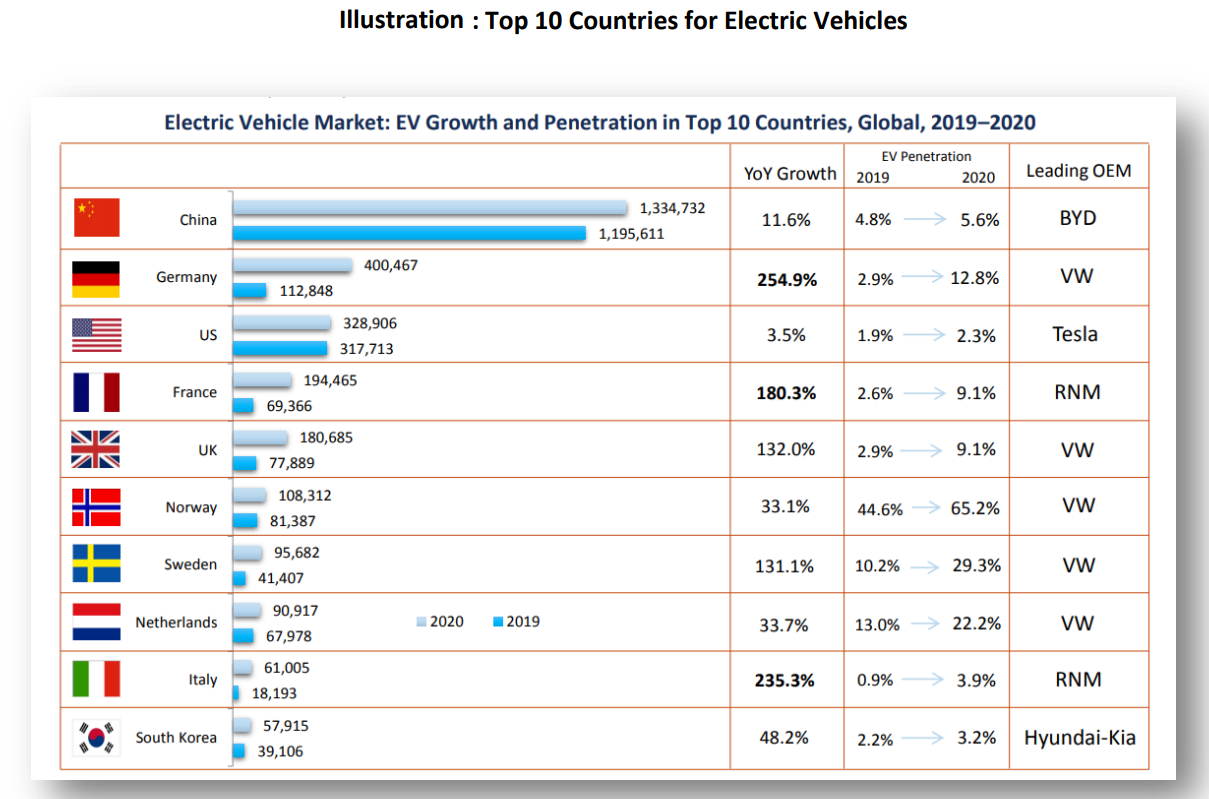 While many manufacturers are working on re-engineering their conventional platforms to accommodate EV components such as batteries and motors, the industry's transition from a vehicle-centric to a service-centric approach also requires the development of new, dedicated electric and digital vehicle platforms. These next-gen electrical architectures will be geared toward energy efficiency, V2X connectivity, and high-performance computing with redundancy for autonomous system capabilities.
These trends will drive the industry to shift from the traditional pyramidal, supplier-led value chain toward a more distributed, partner-based value chain. In effect, several mobility companies like Didi and Uber are already sourcing chassis technology and platforms from third parties to cut out OEMs and integrate their technologies directly into dedicated ride-sharing and delivery vehicles. Traditional OEMs have also started developing dedicated platforms. VW is the most obvious example with its recently launched ID family of products which is also being licensed to other automakers, such as Ford.
In summary, accumulated OEM spending on electrification will exceed $300 billion as they build a portfolio line up of 30-50% of electric alternatives.
Solutions for the New-Age
Fundamentally, EVs have fewer mechanical components and more electronics content (70% higher) compared to a standard, fuel-powered vehicle. As innovations surge in the EV space, the subsequent increase in demand for power semiconductors will provide a growth opportunity for the industry. It will also test the ability of existing supply chains to deliver the expected volumes.
Vehicle manufacturers are keenly observing to get a better grasp of supply chains, be able to promote greater transparency, and improve supplier management that can support the development of next-generation electric/electronic (E/E) architecture. These shifts are creating new opportunities for specialist players to engage directly with OEMs or Tier 1 suppliers and offer highly sought-after expertise.
Cyient's proven expertise in digital and software enhancing offerings can assist customers in end-to-end hardware development, V&V processes, and the different phases of the product and domain lifecycle. It can provide project assistance ranging from development and manufacturing to functional unit testing and aftermarket support, including proprietary hardware design testing and debugging at a component level. Some solutions developed for customers include:
LabVIEW graphical-based device simulators to replace hardware systems;
Controller boards to facilitate reduced cost;
Interface modules for I/O and pulse-width modulation (PWM) channels compatible with strict industry standards for transient protection while achieving 40% cost savings on client design; and
Automated-testing equipment for fault diagnostics for products like I/O units, switches, HMI, vehicle control units, communication gateways, and more.
The following illustration elaborates on Cyient's key offerings across the development cycle.

Advanced Driver Assistance Systems (ADAS) Demand and Semiconductor Shortage to Continue Post-Pandemic
Over the past several years, the semiconductor industry has been driven by the rising demand for power semiconductors in EVs, digitized cockpits and more. During the pandemic, supply chain bottlenecks and the resulting semiconductor shortages gravely impacted automotive production.
While the market of automotive semiconductors is worth $38 bn, with an approximate loss of $61 bn, the shortage impacted the value chain beyond its own market. The shortage is expected to continue for at least the next 12-24 months.
In view of these shortcomings, an efficient supply chain is one aspect of increasing complexity and shortening development cycles in automotive production. Additionally, there will be a need for the rapid and cost-efficient development of semiconductors with varying specifications for multiple application areas.
The successful development will be a big boost for megatrends like electrification, connectivity and autonomy. It will also assist the development cycles across different semiconductor segments ranging from analog to digital and micro components. For instance, IVI semiconductor development is not bound to hardware development cycles any longer, causing development cycles to accelerate even further.
Cyient's Key Offerings for Legacy and Innovative Semiconductor Design and Supply
The growing semiconductor development highlights two strategic directions for OEMs and suppliers. Firstly, as legacy semiconductor systems are on the verge of being commoditized, their production remains time-consuming and complex. In parallel, tremendous R&D efforts are being consumed by new semiconductor design and validation processes. Regardless of whether these two segments are tackled independently or with external support, OEMs and suppliers will have to opt for comprehensive and cost-efficient semiconductor services, as listed below:
Efficient Semiconductor and Application-specific Integrated Circuits (ASIC) Development
Moving forward, OEMs and suppliers need to reconsider their sourcing strategy for semiconductors. Cyient's analog expertise of over 20 years and 300 tape-outs stands out in terms of offering complete turnkey solutions or service capabilities across the design process. Cyient's range of cost-efficient solutions from commoditizing legacy analog applications to more comprehensive designs for ADAS, digital cockpit, and electrification applications, helps automotive OEMs and suppliers gain a competitive edge.
Semiconductor Innovation
Semiconductor design is evolving rapidly, with state-of-the-art semiconductors becoming integral to automotive success. Cyient has hands-on industry experience in end-to-end automotive embedded systems development, which is critical to prevent data silos or domain collision. Ultra-low-power designs, high voltage applications and micro-electro-mechanical systems (MEMS) are some of its core strengths in the areas of joint innovation, funding, and IP.
Partnership with Leading Premium Semiconductor Companies
Cyient is a development partner to 5 of the top 10 providers of automotive semiconductors. With a superior track record of more than 100 ASIC projects, Cyient provides customers with custom turnkey mixed-signal ASICs and manages the complete lifecycle. This includes assessment and development of design, including that of wireless, wireline, ultra-low, high voltage, MEMS systems in small batches to high-volume production through and until end-of-life.
End-to-End Semiconductor Supply
Whether it is OEMs looking to acquire greater independence or suppliers striving for improved transparency vis-a-vis their semiconductor supply networks, Cyient offers a holistic solution that ranges from prototype-building and production orchestration to chip validation and testing. As a last step, it also offers testing of essential firmware and tailored (hyper) software automation. This semiconductor-to-software toolchain provides comprehensive, end-to-end support in overhauling and enhancing traditional sourcing processes.
Conclusion
This decade will see a major ramp-up in EV innovation and an increasing demand for ADAS capabilities. These trends will have a significant bearing on the semiconductor supply chain and development cycles.
Auto players have come to realize that the industry had always been plagued by a persistent slump in the semiconductor supply, only to be aggravated in the pandemic. However, they also recognized that shortage and complexity are not the only obstacles to be overcome. With growing disruption in the semiconductor space, innovators will have to tread cautiously in order to effectively manage the collision and interoperability of different domains and systems.
Part 5 will explore the software-defined trends for automobiles of the future. If you would like to be notified about Part 5, please subscribe to our news update (scroll down). Please follow us on LinkedIn for our news updates & Click here to know more.
### References: Figures and illustrations are developed with and by Frost & Sullivan, e.g. the MG08- Global Automotive Outlook 2021 report
Please click here to read part 3 of the "Intelligent Automotive Series"