The COVID-19 crisis has led to an unprecedented disruption of the world economy and is pushing businesses to realign their strategies and formulate new business models. The pandemic has catapulted the healthcare industry to center stage and will lead to a far-reaching impact on how healthcare will evolve at a leapfrogging pace. Mass shifts in the quality of healthcare in the short-term will also contribute to long-term repercussions on how the industry shapes up.
One of the most significant impacts on the industry is the shift from hospital-based services to telemedicine and virtual care, as well as an increase in demand for portable point-of-care solutions. Digital health, retail, and drive-through clinics have also seen increased demand. While there is no denying that human touch is essential for emergency care and that it cannot be entirely replaced by automation, in the long-term, a strategic shift toward automation, and digital transformation is imminent. This includes activities such as contact tracing and AI-based solutions (in the short-term) to detecting early infections and managing and containing the spread in the immediate future. The crisis is also leading to extensive collaboration between major healthcare firms for open-source ventilator designs, vaccine research, drug discovery, and critical equipment manufacturing. It is heartening to see unprecedented humanitarian partnerships that go beyond the call of duty.


Short-Term Impact
Increased demand and consolidation: The industry is witnessing a record demand for ventilators, personal protective equipment (PPE), testing kits, and sanitizers, and this demand is expected to continue. Hospitals across the world are reporting losses (up to $200 billion)[I] and an about 85% drop in elective surgeries[ii] running into the second half of 2020. This downward trend will continue even in the medium-long run. Additionally, several smaller clinics and hospitals could go out of business resulting in the consolidation of smaller players.
Adoption of medical manufacturing: Non-traditional players such as auto and defense industries are trying their hands at manufacturing ventilators and lifesaving equipment. Honeywell, for instance, is manufacturing N95 masks, while Tesla and Mahindra Auto are making ventilators. However, their capability to work in the medical devices domain, in the long run, is uncertain.
Increased focus on digital tech: The industry will also witness a surge in digital interfaces for remote patient monitoring and teleconsultations for elective or non-emergency physician consultations. Digital tools are already being used for contact tracing as well as epidemiological predictions for disease progression and flattening the curve. Some of the commendable digital adoptions of technologies include telemedicine, AI-based X-ray and CT scan image analysis, massive contact tracing (Google and Apple AI-based contact tracing), and the Government of India's digital tracing platform, Arogaya Setu.
3D additive manufacturing: Additive manufacturing is being used for print ventilator spare parts, face shields, and other protective equipment.
Supply chain management: For the past couple of decades, the global economy was driven by procurement from low-cost destinations for economies of scale, and this holds true for medical device manufacturing as well. However, with the worldwide supply chain disruption due to COVID-19, multinationals firms are looking to diversify their supply chain base. Japan recently announced that it is setting up a $2.2 billion fund to help manufacturers shift their base out of China. The US, too, has shown a strong inclination to diversify its manufacturing from China to other countries. Vietnam, Thailand, and some other South-East Asian countries, including India, are emerging as the preferred destinations.
Adoption of AI: Artificial intelligence has been exceptionally accurate in predicting susceptibility to lung infections, especially in newly infected COVID-19 patients. It has helped identify patients who are more likely to develop severe respiratory issues due to the coronavirus by applying AI-models based on liver ALT enzymes, myalgia, and hemoglobin levels. Besides, AI is also being used to sieve through millions of data points to predict which existing drugs can be repurposed for COVID-19 treatment. In the race towards finding a vaccine, AI is playing a role in identifying which viral epitopes can be targeted for potential vaccine development.
Overall MedTech Industry Outlook
While the healthcare sector is typically considered recession-proof, it too is facing headwinds due to social distancing in the current pandemic. Most MedTech players have seen a dramatic drop in revenues with Medtronic reporting ~60% drop in mid-April, Boston Scientific reporting a 50% drop, and Becton Dickinson's surgical revenues falling by 50%-70%. So, how will this crisis pan out for the MedTech industry over the next few months?
In the short-term, traditional MedTech players such as GE, Medtronic, and Philips will focus on ventilators, patient monitors, EKG machines, X-ray systems, CT scanner markets, and digital platforms for patient management and engagements. This is driven by reduced demand for capital equipment as elective procedures are postponed or canceled. It is expected that Q2 and Q3 may see a surge in demand for disease management equipment such as diabetic pumps, dialysis machines, as well as non-critical elective surgeries.
While in-vitro diagnostics firms, including Roche, Abbott, Thermo Fisher, Baxter, and Qiagen, have been at the forefront of producing critical COVID-19 diagnostic testing kits, diagnostic equipment, and drug-delivery systems, this market has shown a significant increase and will continue to grow even in the post-pandemic period.
Huge gaps are also being filled by smaller players and startups, who have been nimble and agile to revamp their technology and scale the production of COVID-19 testing kits, critical medical equipment, and PPEs. This will result in a rise in innovative healthcare technologies.
Technology players such as Google, Microsoft, Amazon, Apple, and IBM are partnering with traditional MedTech and healthcare players involved in developing tools for patients and care providers. The tech giants are providing cloud platforms for telehealth and remote patient monitoring solutions to AI platforms for drug repurposing and vaccine targets, etc.
Demand and Challenges for Critical and Non-Critical Medical Equipment Due to COVID-19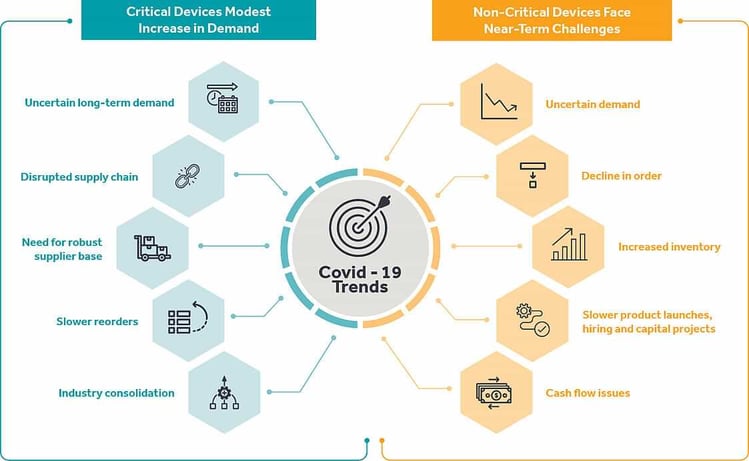 COVID-19's Implications for Medical Technology Players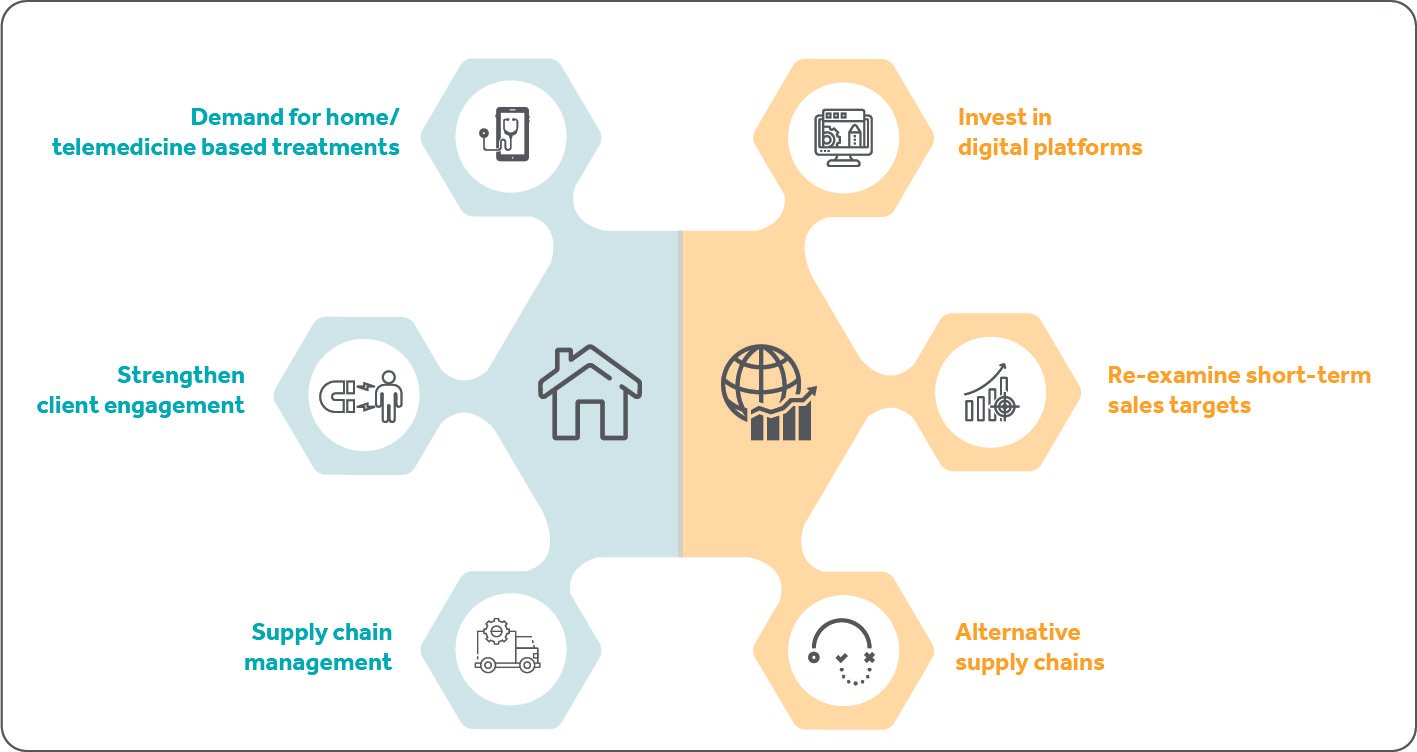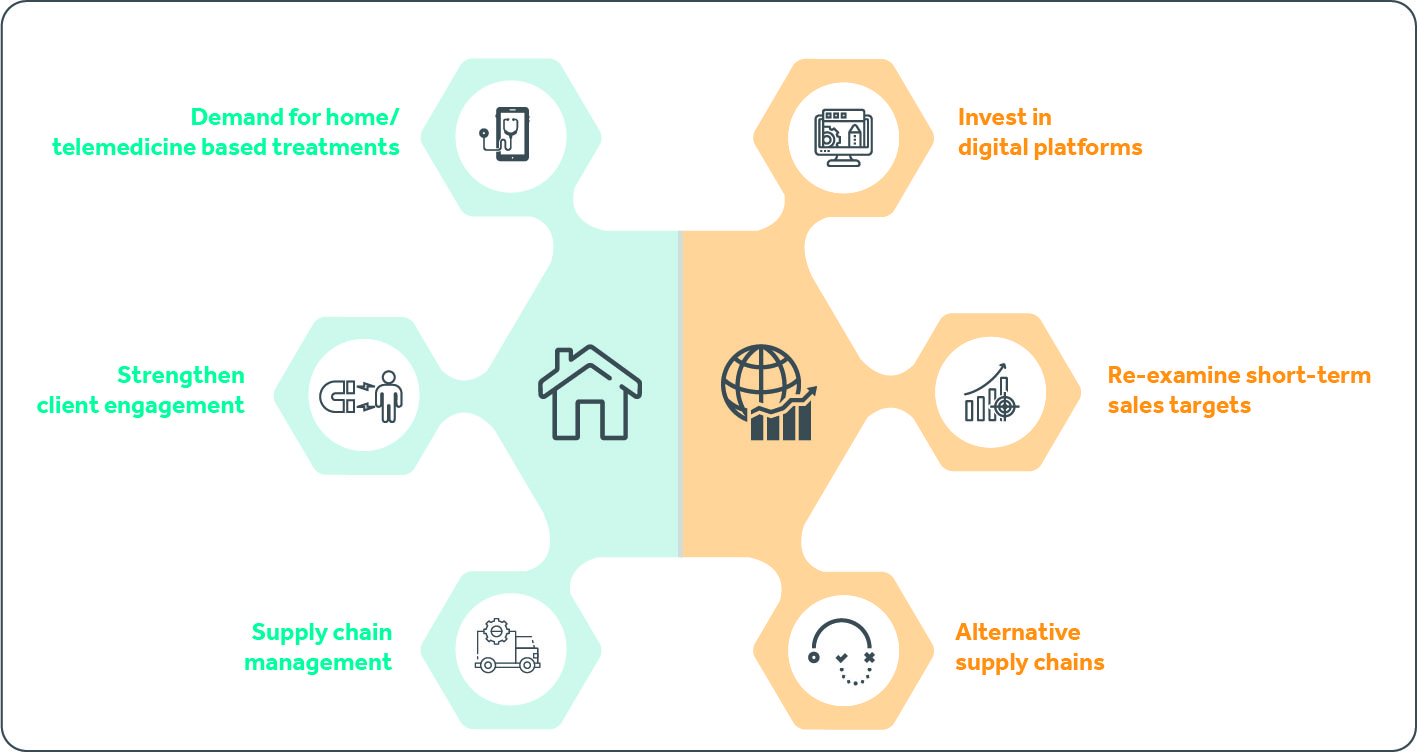 The Cyient Impact
Our Medical Technology and Healthcare business unit is at the forefront of working with leading global medical devices firms and also has been dynamic in supporting innovative solutions. Cyient has been very active in its contributions in managing the pandemic by manufacturing diagnostic equipment for indigenous innovations such as Molbio's Truenat Beta CoV RT-PCR based COVID-19 molecular diagnostic equipment. Molbio's Trunat RTPCR equipment was previously used to detect infectious diseases, including tuberculosis, HIV, dengue, and chikungunya. It has been qualified by the World Health Organization for tuberculosis detection in more than 40+ countries. Truenat is a portable, battery-operated, highly affordable RT-PCR equipment.
Cyient also designs and manufactures wearable patient care monitoring systems for remote monitoring of critical COVID-19 patients. Most patient care monitoring systems can monitor cardiac ECG, heart rates, SPO2 (saturated oxygen levels), pulse rate, respiration rates, non-invasive blood pressure, and temperature. This has been especially useful to minimize the exposure of healthcare professionals to infected patients in ICU settings or for home monitoring of non-critical patients.
Cyient's drone surveillance system, too, was quickly adopted by the Telangana State police to implement the nation-wide lockdown effectively. The drones are equipped with a unique infrared camera that can potentially be used for thermal screening for personnel and identify potential coronavirus patients.
The MedTech industry will need to fundamentally realign both short-term as well as long-term focus by revamping its commercial strategy, staffing needs, R&D priorities, and product portfolios to cater to demand changes due to the COVID-19 disruption. The pandemic is predicted to occur seasonally, and hence healthcare demands, services, products, and business models will require long-term strategic changes. Organizations must adapt to these changes by being attuned to changing market dynamics. While several factors are still unknown, one thing is certain—businesses, especially healthcare, will become more modernized, efficient, and resilient.
Learn how Cyient can support you in delivering world-class MedTech and healthcare solutions and services.

[i] COVID-19 to cost us hospitals $200 billion through June, S. Soucheray, CIDRAP Univ. of Minnesota, May 6, 2020
[ii] US hospitals, patients cancel elective surgery as coronavirus spreads, D. Basley, Reuters, March 17, 2020