Considering net zero targets, the global energy crisis, and reduced fossil fuels, Rare Earth Elements (REEs) are becoming the primary sources of renewable energy after naturally abundant solar, wind, geothermal, and tidal energy. Rare earth elements, including lanthanides and yttrium, are critical elements and valuable commodities due to their limited availability and high demand in a plethora of consumables and industrial applications, especially in high-tech products such as permanent magnets, batteries, catalysts, computer memory, and lighting to name but a fraction.
REEs, being highly dispersed and available in low concentrations, are economically unviable to exploit. Their supply is further limited by the environmentally damaging extraction processes combined with competition for land use. Hence, geologists are looking at alternative sources of REE extraction, typically from placer deposits or from recycling, to meet the demand by having optimized and precise exploration of natural resources without any overburden.
REE Use Cases and Current State Worldwide
Rare earth elements are a group of 17 metallic elements that are essential components in numerous high-tech consumer products and military applications. The use of REEs in products has become increasingly important in recent years, and it is estimated that they are necessary components of over 200 products. Some of the most significant applications of REEs are in consumer electronics such as cellular phones, computer hard drives, flat-screen monitors, and televisions. REEs are used in various ways, including as magnets, phosphors, and catalysts, in these products. For example, magnets made from REEs are essential in the motors and voice coils of desktop and laptop computers. In addition to consumer electronics, REEs are also crucial components in the automotive industry, particularly in electric and hybrid vehicles. Permanent magnets used in electric motors contain significant amounts of REEs, making them essential for efficient operation of these vehicles.
Significant defense applications of REEs include electronic displays, guidance systems, lasers, and radar and sonar systems. REEs are particularly important in the production of high-performance magnets and in the development of materials that can withstand extreme conditions.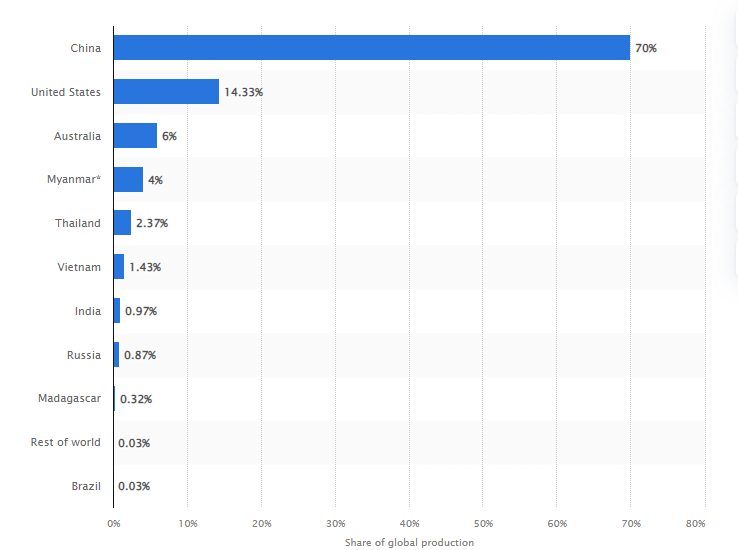 Distribution of rare earths production worldwide as of 2022, by country
According to a report published on Statista, as of 2022, China produced more than two-thirds of the total global rare earth mining production. The US, a distant second, accounted for a 14.33% share of the global rare earth production that year. Although REEs may only represent a small fraction of the weight, value, or volume of a product, they are often necessary for the device to function correctly. Without REEs, many of the everyday products we rely on would not function, and the development of cutting-edge technology and defense systems would be severely limited. However, despite their importance, the production of REEs is concentrated in a few countries, and concerns have been raised about their sustainability and geopolitical implications.
Artificial Intelligence in Mineral Exploration
Huge amounts of data from varied sources—geophysical, geochemical, geological, geomorphological, hydrological—and regional structures are collected and processed, often without any significant mineral discovery or abandoned due to poor resource grade. With industry adoption of open data initiatives and with emerging technologies of collecting huge datasets such as earth observation—optical, radar, hyperspectral, gravity, aeromagnetic, and radiometric surveys—aided by computer vision and predictive analytics, building a spatial decision support system has become easier. This helps in targeting and delineating prospective mineral resources or optimizing business processes and has been effective in revenue improvement, downtime reduction, and reduced safety hazards while supporting sustainable development goals.
AI-based mineral exploration algorithms have emerged to identify mineral deposits in greenfield sites, and drones are being used for autonomous drilling to minimize cost. 3D maps have been developed to identify visual mapping for more complex and large exploration sites. Cloud-based image analysis to categorize and segment satellite imagery, along with augmented analytics, provides geologists with inference results for a large area efficiently, boosting discovery rates and speeding up the exploration life cycle.
Rock chemistry, along with spectral signatures of rocks, minerals, and soil from hyperspectral data and other geological and geomorphological parameters, is being used to train models using artificial neural networks, Design of Experiments, Support Vector Machines, Logistic Regression, and other classification and regression models besides the Bayes, Fuzzy and Dempster-Shaffer theory in targeting potential mineral deposits. While convolution neural networks (CNN) and deep reinforcement learning for multi-objective optimization in extracting knowledge from integrated geospatial analysis of huge, diverse, and disparate datasets have performed well in literature, they are yet to be proven in commercial solutions.
Recent literature indicates that 3D mineral perspectivity from 3D geological models using a convolutional neural network helps to precisely estimate REEs. Further, machine learning techniques such as a fully connected neural network (FCNN) have attempted to identify the right ligands for separating these trace elements that are natively stacked with each other. Commercially, AI has been used in stockpile, stope volume estimation for orebodies, pit optimizations, and more with reasonable efficacy.
REE and the Sustainability Megatrend
REEs are an indispensable component of digital infrastructure by being a part of most high-tech products, from cellular phones and electric and hybrid vehicles to electronic displays and guidance systems. At the same time, they are a new source of renewable energy. Precise exploration of REEs using technology disrupters—AI/ML, IIOT, space technology, and metaverse—could help support sustainable mining. In line with our vision to develop sustainable and smart solutions for a greener future, exploring and tapping into REE capabilities will help businesses come one step closer to their sustainability goals.
About the author
Nihar R Sahoo holds a Ph.D. in Earth Sciences specializing in GIS, Remote Sensing, and Applied Statistics. He has over 23 years of industry experience. His areas of interest are building end-to-end development, deployment, and operationalization of geospatial machine learning solutions with earth observation data.