Eco-anxiety, climate doom, and existential dread have thrown the world into a tizzy. Innate fears of running out of valuable resources crucial for our survival and diminishing biodiversity are top of the mind. Numerous efforts are underway to promote sustainability, including developing green technologies, adopting sustainable practices in businesses and industries, and implementing policies to protect the environment.
While industries worldwide drive the rapid development of sustainable and greener products and solutions, have we paused to assess their long-term impact?
Let us go back in time to visit an accidental yet promising discovery, which proved detrimental to the environment, almost 75 years later – polythene!
In 1899, German scientist Hans von Pechmann discovered a waxy substance at the bottom of his test tube. He had accidentally created polythene, one of the world's most widely used and combative materials. More than 30 years later, in 1963, Professors Ziegler and Natta were awarded the Nobel Prize in chemistry for a technique that polymerized ethylene or propylene into plastic; the Japanese scientists used the same catalyst for polymerizing acetylene. This method established ways of producing significantly cheaper, stronger, and more versatile plastics. While this was a breakthrough discovery, it is a classic example of a short-term fix with long-term detrimental consequences.
Similarly, shrinking conventional energy sources, such as petrol, diesel, and coal, have triggered the development of and advances in batteries and electric vehicles. While batteries will play an imperative role in decarbonization, we cannot ignore the high social and environmental cost of battery manufacture.
Could today's sustainable initiatives jeopardize the future?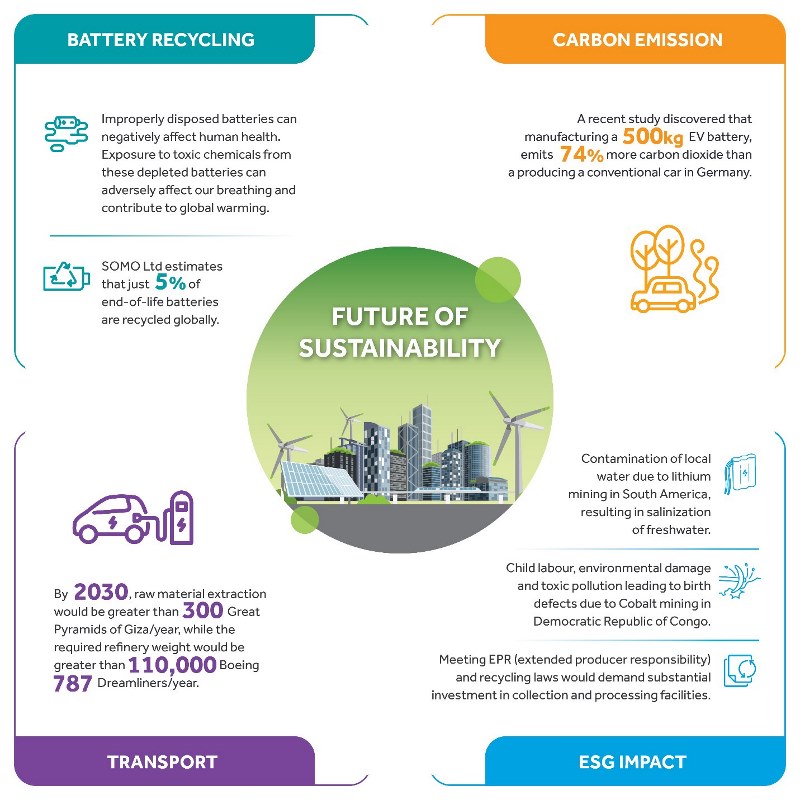 The real questions are: What is the future of sustainability? How are we defining it in current times? Are we becoming myopic and trying to utilize currently available resources and not thinking about how they might exacerbate environmental issues in the long run? Consider certain technologies that are not just in use but ubiquitous, like mobile phones. While mobiles help shrink the world with advanced connectivity and communication, would anyone ever opt for an accommodation surrounded by mobile towers? It is crucial to reflect on whether these "alternative" resources are truly "sustainable" or would pose a threat to the environment in time.
Twenty-five years ago, there was a global consensus on sustainable development, giving rise to new perceptions and thinking. Now it's time to foresee how our sustainable solutions can have a lasting impact instead of just leveraging new technologies that help in decarbonization. With climate change, shrinking resources, and biodiversity at risk, we must shift our focus toward researching and understanding the future of the sustainable solutions that we use today. As industry leaders, it is our responsibility to address and prognosticate the challenges and plausible solutions for a truly better and sustainable future.
How Cyient promotes sustainability
With 30+ years in the ER&D space, Cyient's vision is to provide smart and integrated solutions to our customers. Sustainability being one of the five megatrends that will revolutionize the way we live, work, and operate, adopting technologies that will shape and redefine our future is crucial. Yet companies must do so with wisdom and a clear focus on building a better tomorrow.
About the Author
Diptesh V Kadam is a Gold medalist in Geology from The Maharaja Sayajirao University of Baroda. He has 16+ years of industry experience which includes 10 years in the field of O&G industry. His illustrious career includes expertise in surveying, planning, designing, operation and maintenance of pipeline. His areas of interest are building end-to-end geospatial solutions for Oil and Gas pipelines for better and safe operations.