Aviation trade shows and expos have always been a melting pot to discuss cutting-edge capabilities, trends, and emerging technologies in the industry. At the 2018 Aviation Forum in November, representatives from large OEMs, Tier 1 companies, and consulting firms congregated in Hamburg for two days of discussion and debate on the future of the industry. Several key themes emerged, such as the effect of globalization and its impact on the supply chain, consolidation in the industry due to the commoditization of services, and the future outlook of how digital technologies can be adopted in the industry.
Cyient Canada's Director, Pierre Carpentier, participated in an interactive panel discussion entitled: "The Aftermarket of Tomorrow, Perspectives for Incumbents and Challengers" along with panelists from Satair, Lufthansa Technik, and McKinsey & Company.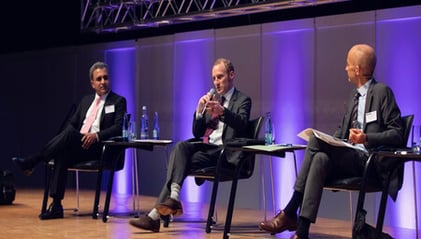 Pierre Carpentier (center) talks about emerging trends in the aftermarket space at the Aviation Forum 2018.
This post offers a unique perspective on the outcomes of that discussion, as well as the author's opinion on the role of specialized service providers in the aftermarket of the future.
What are the main trends that shape the aftermarket of tomorrow?
The panel discussion took two different standpoints to answer this question. From the perspective of Tier 1 companies and product suppliers, the consensus centered on how the reality of today's market economics is driving OEMs to actively challenge their supply chain and increase productivity while driving down margins. This is leading to consolidation in the industry, as well as forcing industry players to re-think sourcing strategies. Service providers with deep-rooted capabilities across the design, build, maintain framework of product lifecycle are well-positioned to gain from this key trend.
The second perspective was centered on how digital technologies will shape aviation. Three key trends emerged from the discussion:
1. Technology as a business enabler: When benchmarked against other industries, the aviation sector is lagging in terms of adoption of digital technologies. A major driver is the criticality of the MRO function vis-à-vis continued airworthiness. Critical methods, standards, and rules that regulate the MRO function of aviation were brought into effect when IT was in its infancy. Unfortunately, these standards have not changed much since. It was clear from the panel discussion that many of the major players acknowledge that adoption of technology will have an important role to play, but that deeper issues need to be addressed by the industry players—the most significant being data ownership, governance, and control.
Perspective: Cyient strongly believes that MROs need to re-vamp their underlying processes and re-skill their workforce to gain the maximum benefit from these technology advancements. This will lead to a considerable change management effort for which MROs need to be prepared.
2. Regulation and adoption are heavily influenced by large players: Regulators and industry players have formed several committees over the years to dictate industry standards and generally accepted methods to ensure continued airworthiness. These groups have strong influence on how customers in the MRO value stream take decisions. Any new trend needs to be generally adopted by these groups before becoming mainstream and opening new market opportunities. This slows down market adoption of emerging technologies and ideas as these groups are predominantly focused on ensuring continued airworthiness.
Perspective: Cyient supports advancements in airworthiness regulations with our experience in RTCA DO-178, DO-254, DO-160, and more. Software and hardware considerations for airborne systems are designed to ensure intended functionality with a level of confidence in safety. We have expertise in requirements capture, test automation, certification, and model-based simulation working directly with the Federal Aviation Administration (FAA).
3. Differentiation in aftermarket services will be less about operations and more about enhanced customer service: As various MRO players evolve and become more sophisticated, the MRO operation itself has become commoditized. Operators now make decisions based on geographical convenience and product-specific capability. In the future, technology-assisted customer service that is connected to the operation can be a significant point of differentiation. Technologies such as IoT, cloud, and edge computing will be used to more actively manage an operator's aircraft in service and ensure increased availability. Other technologies such as machine learning and AI will be leveraged to predict an occurrence of events and allow the MRO system to proactively plan for them, thus reducing turnaround times and spares inventory.
Perspective: Cyient's A&D digital vision is the embodiment of our services-to-solutions strategy. As various digital solutions offerings come to market, Cyient is poised to take advantage of existing customer relationships to offer integrated platform solutions.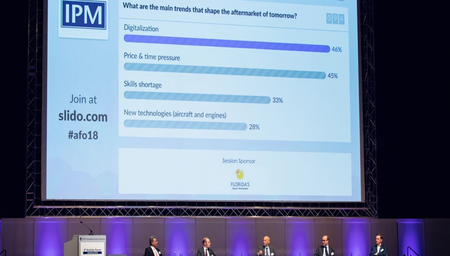 "The Aftermarket of Tomorrow, Perspectives for Incumbents and Challengers" panel discussion at the Aviation Forum 2018 in Hamburg.
The MRO market is in transition. How do you assess the situation from the perspective of a new player vs. the incumbents?
For new players in the A&D space, it is difficult to disrupt and challenge legacy systems and methods. This needs to change if the industry has to continue on the long road to success. In a more traditional start-up environments, a new player capitalizes on a differentiated approach that solves a specific customer need. There are fewer barriers to entry than in the MRO industry. That said, larger players are more open to investment in new ideas and technologies. Hence, joint ventures with large industry players would be the preferred approach.
For incumbents, the challenge lies in carefully assessing new ideas and technologies. As traditional players have developed methods and bespoke systems over time, it is increasingly difficult to unwind, making it risky to fully embrace and adopt new technologies and methods. This implies that incumbents will gradually replace specific functionalities in their overall systems, as opposed to the full systems themselves. Thus, service providers who can demonstrate rapid scalability and integration into an existing, complicated infrastructure will have an advantage.
The panel also discussed the increase in venture capital funding as a sign that the aerospace industry is on the cusp of being open to adopting new technologies.
In conclusion, the panelists concurred that while new digital technologies in the aerospace aftermarket offer the potential to offset some of the realities of the current economic conditions, market adoption will be slower than other industries. The systems and processes that support continued airworthiness will remain the key motivating factor to test the adoption of these technologies.
Cyient is actively investing in building digital technology-enabled solutions that can help address such industry challenges. Learn more.