The steel industry forms the backbone of industrial development in any country. Over the past decade, demand for iron and steel has risen, largely owing to an increase in demand for steel and the required energy for production. The World Steel Association's Short-Range Outlook (SRO) steel demand forecast for 2023 and 2024 estimates that this year, demand will see a 2.3% rebound to reach 1,822.3 Mt. In 2024 the demand is forecasted to grow by 1.7% to reach 1,854.0 Mt. Steel is positioned to play a major role in energy transition globally, coupled with a strong push for electrification, infrastructure development, and residential projects in developing countries.
The outlook for India is positive, with strong government spending on infrastructure and investment in renewable energy. Automotive and consumer durables are expected to maintain healthy growth driven by sustained growth in private consumption. After an increase of 8.2% in 2022, demand is expected to rise to 7.3% in 2023 and 6.2% in 2024 (https://worldsteel.org/media-centre/press-releases/2023/worldsteel-short-range-outlook-april-2023/). The steel sector ranks first when it comes to CO2 emissions, accounting for around 10% of global carbon dioxide (CO2) emissions, with 2.6 gigatonnes of carbon dioxide (Gt CO2) emissions annually. It is currently the largest industrial consumer of coal, which provides around 75% of its energy demand for production (https://www.iea.org/reports/iron-and-steel-technology-roadmap)
The day is not far when companies will require mandatory disclosure of their greenhouse gas (GHG) Scope 1, Scope 2, and Scope3 emissions and use a standard metric to assess such risks along with their audited financial statements (https://www.sec.gov/news/press-release/2022-46).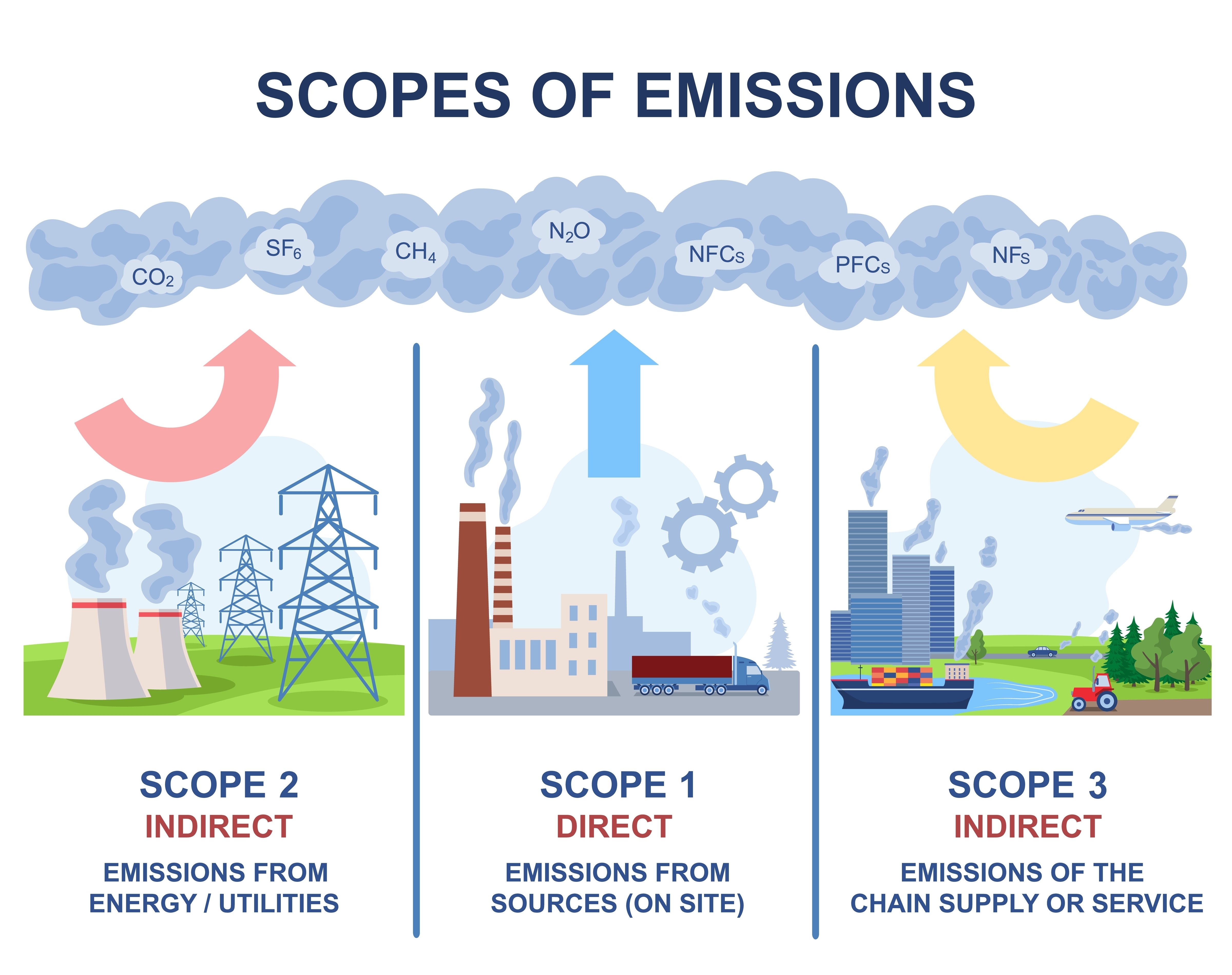 Role of Scope 3 emissions in decarbonization
Companies across the steel value chain are reducing their Scope 1 emissions—those under their direct ownership—with operational efficiency, predictive maintenance, etc. Strategies to address the reduction of Scope 2 emissions include power purchase agreements and a mix of renewal energy sources. Scope 3 emissions, including upstream (procurement of raw materials, shipping) and downstream (transport, warehouse management, scrap processing) emissions, however, are often overlooked.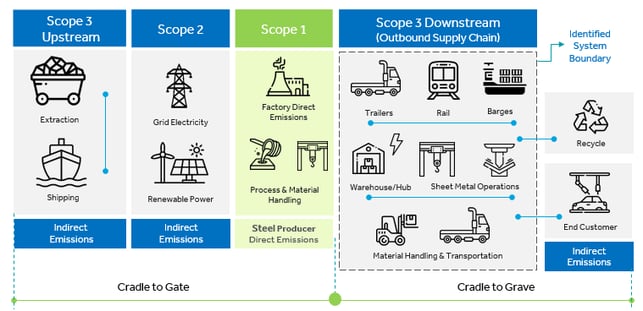 Challenges of downstream supply chain emission management
Complex network of supply chain partners without visibility into operations.

Lack of reliable, accurate, and specific data required for GHG calculations.

Primary data sources, often maintained on multiple platforms (interoperability) within the organization, not integrated or accessible to all stakeholders.

Companies dependent on one another to set firm emission reduction targets.

Lack of skilled experts who can perform carbon measurement, life cycle analysis, data management, and established data quality processes is a huge barrier for small enterprises.

Determining which Scope 3 emission categories and data types are most critical to the organization (15 separate Scope 3 categories).
Scope 3 decarbonization levers
The levers for Scope 3 decarbonization are highly industry-specific. They depend on the system boundaries considered for its disclosure (carbon footprint emissions) and hot spots that require maximum attention. There could be many options, such as switching to battery-powered material handling equipment, energy monitoring solutions for better warehouse management, and more. Calculation models to access the carbon footprint for different transportation options (inland waterways vs trailer transportation) integrated with logistics data are multiple levers that impact Scope 3 emissions.
| | | |
| --- | --- | --- |
| Strategy | Key levers | Use case |
| | | | |
| --- | --- | --- | --- |
| | Supplier qualification and partnerships | Include carbon footprint declaration as key parameter for supplier selection | Select transportation vendors that focus on sustainability goals such as monitoring fuel consumption for logistics |
| | Sustainable products | Optimize current design and process for lower carbon footprint | Use returnable jigs and fixtures that are reusable and reduce consumption of wooden pellets |
| | Optimizing production | Predict demand for production planning of SKUs based on network demand and supply data | Better warehouse utilization and less time spent (in view of Scope 3) but has a cascading effect on effective on production process |
| | Technology platforms for monitoring and reporting | Get a single view of data from multiple sources (primary and third-party, to measure emissions with confidence) | Take better informed decisions with real-time monitoring of logistics, monitor warehouse energy usage, and track wastage |
| | Circular economy | Recycle and reuse scrap to produce high-quality steel | Enhance steel production and reduce import dependency |
Initiatives to address Scope 3 requirements
Companies should take the following measures to ensure Scope 3 compliance:
Set up internal teams for the data collection process critical to GHG reporting; develop standardized primary data collection formats and processes to ensure that activity data is collected regularly for accurate reporting.

Draw up non-disclosure agreements to define terms of data use and disclosure; protect data, since violating use and disclosure provisions in legally binding documents have legal consequences, particularly if harm to the data provider can be demonstrated as a result of unauthorized disclosure.

Segment the supplier base (Tiers 1 and 2) so companies can plan and execute engagement programs appropriately.

Conduct supplier engagement programs through workshops to communicate the importance of emissions requirements and incentives-based programs for voluntary disclosure of carbon footprint.

Provide necessary training and technical assistance to set GHG targets, baseline, and report and improve ESG performance.
Role of technology players in GHG assessment and decarbonization
Measure and monitor: Technology platforms help companies understand the impact of the entire value chain on sustainability. They help identify and prepare various data sources for ingestion and use of the right data models for carbon accounting. They also monitor and address hotspots (highest contributors) to achieve sustainable goals.
Analyze and report: Develop customized data models to map activity data to emission models. Report sustainability progress to various stakeholders with dashboards across geographies.
Decarbonize: Consultative approach to devise methods for decarbonization like process improvements and waste to energy, assessment of vendor ecosystem, scaling sustainability initiatives, and transforming the business, end-to-end.
References:
1.https://ghgprotocol.org/sites/default/files/2022-12/Supplier%20Engagement%20Guidance.pdf
2.https://worldsteel.org/media-centre/press-releases/2023/worldsteel-short-range-outlook-april-2023/
3.https://www.iea.org/reports/iron-and-steel-technology-roadmap
4.https://www.sec.gov/news/press-release/2022-46
About the author
Manoj Sahu is Industry Offering Head–Energy with 20 yrs of experience in leading interdisciplinary teams and collaborating on complex engineering design solutions and cost-reduction programs for power generation and renewable energy products. His expertise lies in collaborative leadership skills with strong product management, product development, and design thinking. He provides thought leadership to business stakeholders with market research and go-to-market strategies for new offerings. He is a core member of the Sustainable Infrastructure and Decarbonization (SID) initiative at Cyient.