"Leadership is a journey, not a destination" – Bill George
Does effective leadership mean attaining greater heights with richer experiences, or does it mean using the experience to think and connect at all levels/altitudes? Ram Charan, the world-renowned author, speaker, and business advisor, and Ian C. Woodword, INSEAD Professor specializing in Leadership and Communication, try to answer this question through their concept of the "Three Altitudes of Leadership." I had the opportunity to understand this concept and its applications at an INSEAD program. I have written this blog based on Woodword's article on the INSEAD knowledge platform and is relevant to leaders, team leads, or aspiring leaders in any organization.
The Three Altitudes of Leadership
Altitudes are of great significance in leadership. They can be segregated into three levels: 50,000 feet, 50 feet, and 5 feet. Each altitude is distinct and offers crucial leadership insights. For example, the leadership focus in decision-making for setting vision, ambition, and goals can be at a relatively high altitude, while the execution framework could require focus across altitudes.
Below is a brief description of what a leader may be expected to do at each altitude of leadership -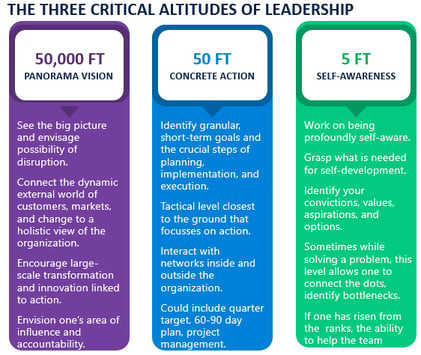 The time spent at each altitude is not likely to be identical. One could develop the capacity to "fly" their thinking at all three altitudes and make the connections between all the altitudes. However, there is a tendency among leaders to get trapped at one specific level—what is termed "altitude sickness."
Altitude Sickness
In his research, Woodword discovered that 70% of senior executives display a phenomenon called "altitude sickness." They become disproportionally trapped at one of these three altitudes. This lack of flexibility can be dangerous for themselves, their teams, and their organizations.
Below are the signs of being trapped at each level and workarounds to avoid altitude sickness: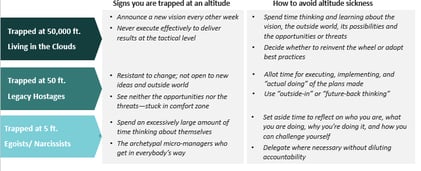 To avoid altitude sickness, one should reflect upon one's leadership and direction and then practice thinking, acting, and communicating at all three altitudes. Similarly, one can support self-growth by coaching, mentoring, and feedback and making time for reflection and learning.
Specific mindsets and habits need to be adopted that allow leaders to consciously and flexibly think, act, shift, and communicate between the three altitudes—from the big picture to the tactical, to the self—and to connect them all.
Leadership is a continuous process of learning, self-reflection, embracing flexibility, and framing your strategy depending on the altitude levels. The takeaways from each altitude level are exciting to witness, and the bigger picture is the actual implementation of these practices.