The previous decade witnessed the transformation of the consumer electronics industry, propelled by the rise of smartphones and other connected electronic devices. Today, customers expect seamless integration of their digital lifestyle choices in their vehicles as well. This trend underlines the need for faster product and feature development cycles that are feasible only through agile development methods and frequent software upgrades to accompany the rapidly changing hardware requirements.
Technology-driven trends are set to redefine the traditional engagement between automakers, customers, suppliers, and technology partners during the production process itself. Innovators realize that time-to-market for new technologies will be a key differentiator in a hyper-competitive market, with both traditional and new players vying for the customer's attention.
Need for Speed: The Age of Faster and Complex Development Cycles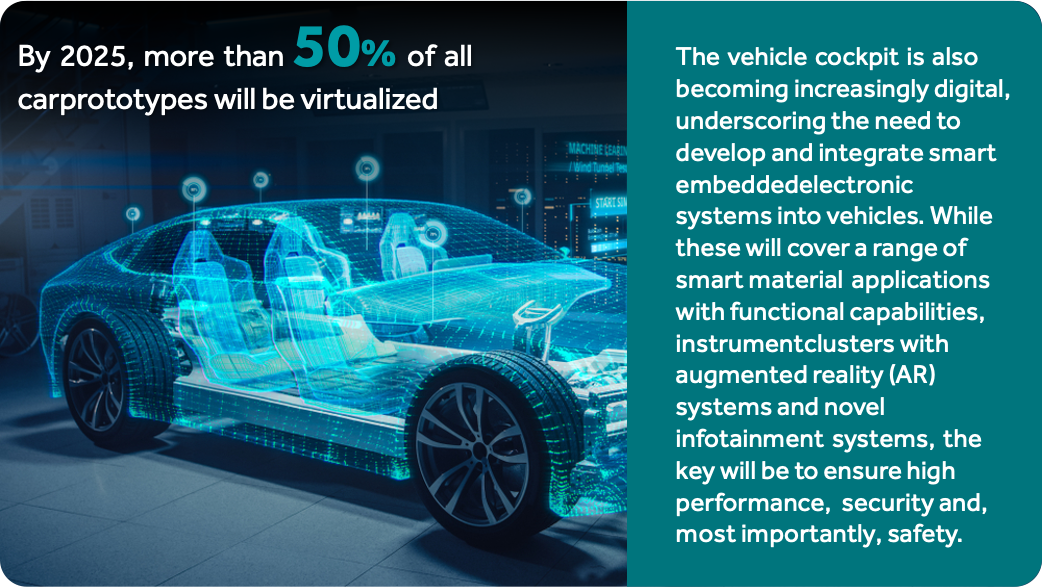 The pursuit of fully electric vehicles is changing development processes, triggering a renewed focus on model-based engineering and virtualization. This shift will require new processes, software toolchains, new-age skill sets, and, by extension, greater collaboration and co-development initiatives to support a transformation of this magnitude. Increased virtualization will lower development costs and improve project fulfillment timelines tremendously.
Businesses realized the need for innovative product development-centered approaches that differ from the traditional V-model followed in systems engineering. New methods like rapid prototyping, concept testing, and collaborative iteration facilitate faster time-to-market. Innovators are integrating traditional tools like Computer-Aided Design (CAD) and Computer-Aided Engineering (CAE) for modeling and simulation of complex systems, such as powertrains, with new hybrid, approaches like Hardware-in-the-loop (HiL) testing. This approach minimizes the need for expensive and time-consuming physical testing at the Verification & Validation (V&V) stage before the start of production.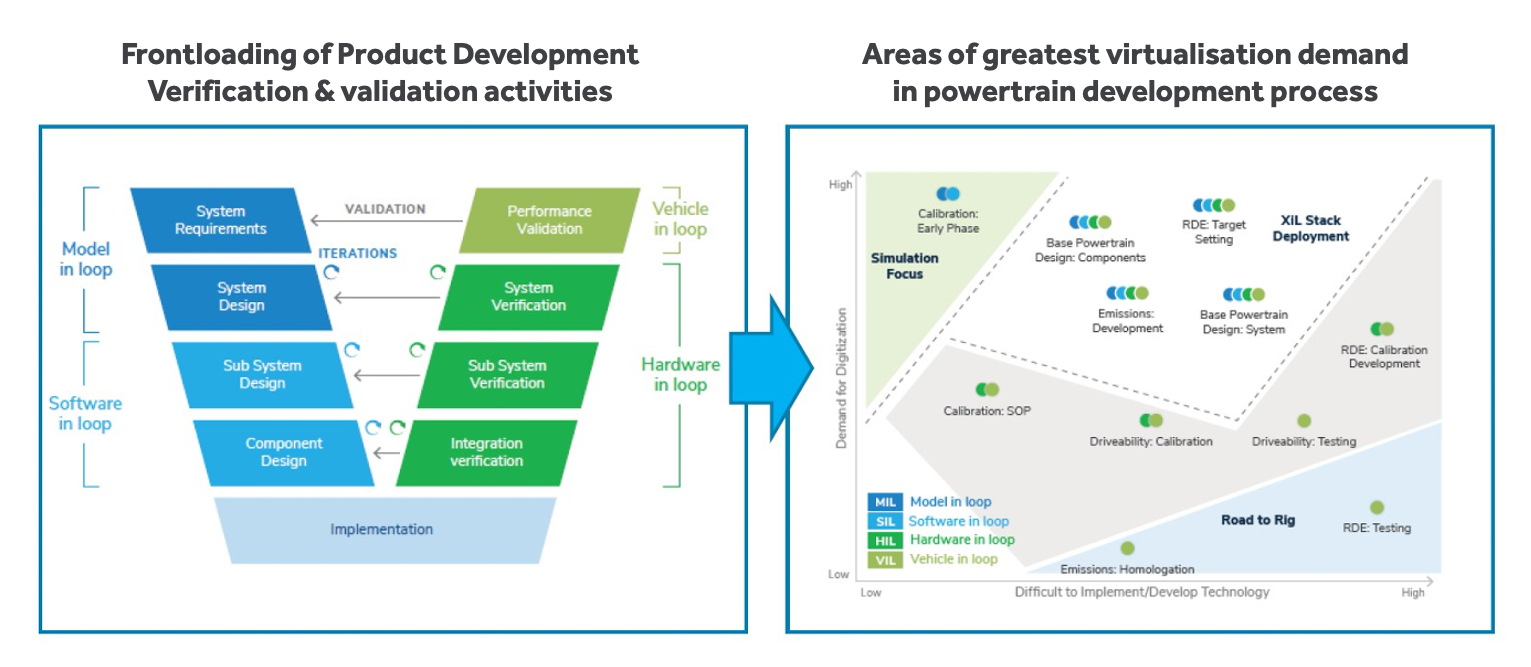 Over the last decade, leading OEMs and tier 1 suppliers majorly failed to implement many Product Lifecycle Management (PLM) processes due to spiraling costs and unmanageable complexity. These challenges necessitated the adoption of agile processes and tools. The industry welcomed newer, more nimble partners capable of demonstrating immediate value-add through a range of design and innovation processes that can connect product design to V&V, manufacturing, post-production maintenance, and over-the-air update.
Increasing Virtualization: Reformation of the automotive value chain
The transition from the concept of a single organization to an organizational ecosystem wherein distinctly different entities—start-ups, joint venture partners, strategic partners, and co-development partners, among them—can co-exist
The continuation of operational excellence and on-time delivery in an agile development environment
The ability of teams to both work independently and also as coordinate parts of a larger PLM program
The facility to concept-test physical engineering solutions using rapid prototyping to bring agile practices into engineering design processes
Implementing Virtualization: Need for High-Quality Development, Testing and Calibration Engineering Services
Cyient has been leveraging its proven expertise in product development such as hardware and software V&V, manufacturing engineering services for product design, and aftermarket facilitation to support clients in innovating faster and achieving higher RoI.
Cyient has supported OEMs like John Deere for over 10 years now, providing support on a range of workstreams like planning of assembly processes, tool and fixture design, material handling equipment, welding validation processes, and factory simulation, and optimization. Cyient has technical competence in quality and supplier management processes, including Production Part Approval Process (PPAP) document reviews, SAP back-end systems support, and visualization and data analysis — all of which advance a customer's value-engineering capabilities.
Solutions across the Value Chain
Overstretched OEM Product Development Budgets
Post the global economic slowdown and pandemic, OEMs were left with over-stretched budgets as they continued investing in expensive CASE-led innovations. Traditional players and new technology companies were in a global race to disrupt the mobility industry with software-defined products and redesigned customer experiences.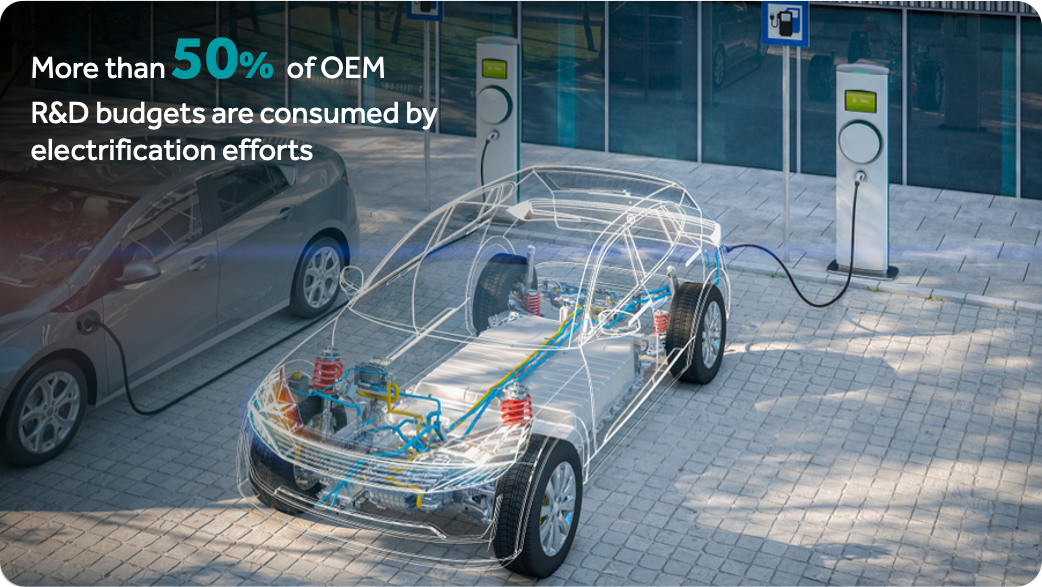 In view of these challenges, OEMs started seeking alliances to optimize their resource allocation toward developing in-house competencies. To ease budgetary pressures, they have prioritized investments in powertrain electrification (50% of total powertrain budgets). The growing innovation in electrification and related areas will open up new opportunities for suppliers on two fronts.
There will be a growing demand to provide legacy powertrain program support and complete program management services. This will result in increasing amounts of development work required to design and homologate vehicles that meet the latest emissions regulations like WLPT and real-world driving emissions tests.
Additionally, businesses will have to infuse tech talent into the automotive industry. OEMs and Tier 1 suppliers have already faced the brunt of managing the development and testing process of key EV domains like e-motors and power electronics completely in-house.
Capabilities like total value management and accurate should-cost analysis will become progressively crucial in the product development process. Cyient's proven experience in assessing traditional bought-out fabricated parts, concept design feasibility analysis, comparative benchmarking of different processes, and engineering change management impact analysis can assist customers with precise manufacturing-process assessments and results-oriented implementation, thereby alleviating budget pressures through the development cycle.
Optimizing Complex Automotive Portfolios and Products
In a bid to offer greater choice and customization, OEMs steadily expanded their product portfolios in the earlier decade, developing new vehicle segments and variants. The increased number of vehicle models, variants, and feature configurations has resulted in unsustainable levels of complexity. Major reductions in product portfolio complexity are now underway, with up to 25-50% cutbacks in variants at vehicle and powertrain levels. There has been a general consensus amongst industry players to focus on qualitative customer product experience rather than on the quantity of product choice.
Some OEMs are eliminating complete vehicle nameplates and powertrain architectures to free up resources for other investments. This approach resulted in increased engineering outsourcing opportunities, especially in software development services for infotainment and HMI applications and consequently shrunk the need for engineering support.
With the market's growing interest in connectivity and autonomous driving (AD) technologies, innovators will rely heavily on sophisticated software to define system performance. In turn, rapid development, integration testing, regular post-sale, and over-the-air updates will be required to ensure continued competitiveness across vehicle engineering domains, such as EV drivetrains, chassis, ADAS, connectivity, and IVI.
Cyient's expertise in product development support across hardware and software domains, ranging from model-based engineering, homologation and CAD/CAE design to value engineering and V&V, positions it as a full-service partner with the ability to own complete car domains or different stages of the development process. For instance, Cyient has been supporting a leading Tier 1 manufacturer from Europe since 2016 with the testing and modeling of IVI systems. This engagement which started with 20 engineers today, boasts of an FTE count of over 120 engineers working to build a comprehensive embedded platform.
Cyient's emphasis on the design-for-recycling approach helps clients design components and systems that can be efficiently built and disassembled. Circularity-focused design can be bundled with Cyient's PLM expertise and core aftermarket cataloging knowledge to support complete cradle-to-grave product management.
Conclusion
Against the backdrop of a rapidly changing ecosystem, the fundamentals of the automotive industry are also in the midst of unprecedented disruption. Industry players will need to partner with digital disruptors to make sense of the ever-increasing demand for virtualization. It is about time innovators acknowledged that digital transformation is here to stay!
Part 4 explores the industry's efforts to reprioritize hardware requirements as the demand for software-led innovation increases exponentially. If you would like to be notified about Part 4, please subscribe to our news update (scroll down). Please follow us on LinkedIn for our news updates & Click here to know more.
### References: Figures and illustrations are developed with and by Frost & Sullivan, e.g. the MG08- Global Automotive Outlook 2021 report.
Please click here to read part 2 of the "Intelligent Automotive Series"