One of the significant challenges the oil and gas industry faces today is pipeline monitoring. The Global network for O&G pipeline is around 2,069,000 km and India has about 29,000 km of transmission lines, of which about 20,000 km comprise a high-pressure gas pipeline network. These high-pressure pipelines are cross-country lines passing through barren lands, agricultural land, undulating terrains, forests, urban land, and rivers. While major sections and stations of cross-country lines are constructed in open areas to reduce their impact on normal human life, real-time monitoring of these pipelines is imperative for efficient and effective operations.
Challenges in pipeline monitoring
Businesses go to great lengths to ensure safe and efficient operation of pipelines. Despite several advances in pipeline monitoring technology, some grey areas and limitations persist, which make this process tedious and expensive. Here are some of the key challenges in oil and gas pipeline monitoring:
Geographic and environmental factors
Oil and gas pipelines pass through remote areas and harsh off-limit environments such as deserts, mountains, or offshore areas. This makes access challenging for monitoring and installation of sensors and other equipment. Harsh weather conditions, such as extreme temperatures, storms, and flooding, also make monitoring and maintenance a challenge.
Toxic leaks
Pipelines are subject to corrosion and third-party damage, which can cause leaks and ruptures. Corrosion can occur due to the interaction of the pipeline with the surrounding environment or the chemistry of the fluids, gas, and debris. While inline inspection tools are used for fault detection, location accuracy is somewhat questionable. The root cause of the spillage could be manmade or natural. Accurately identifying the cause helps companies chalk out a plan to mitigate these contingencies.
Lack of real-time monitoring of right-of-use (ROU)
Pipeline monitoring generates large amounts of data, which can be difficult to collate, manage and analyze. Real-time data collection and analysis are essential to detect and respond to potential problems, but this requires a sophisticated data management system.
Pipeline regulatory compliance
Pipeline regulatory compliance has been a daunting issue judging by the extent of violations, primarily in health, safety, and environmental aspects that have cost oil and gas companies dearly in terms of penalties.
Asset health
Above-ground assets, including skids and station piping, are constantly exposed to atmospheric agents, which can corrode pipes and fittings. It is difficult to check each and every fitting on the skid or station. Currently, the industry uses Inline Inspection Data (ILI), dig sheet, and CP (Cathodic Protection) readings to asses asset health. This is an expensive, time-consuming method, and pinpointing the anomaly location is difficult.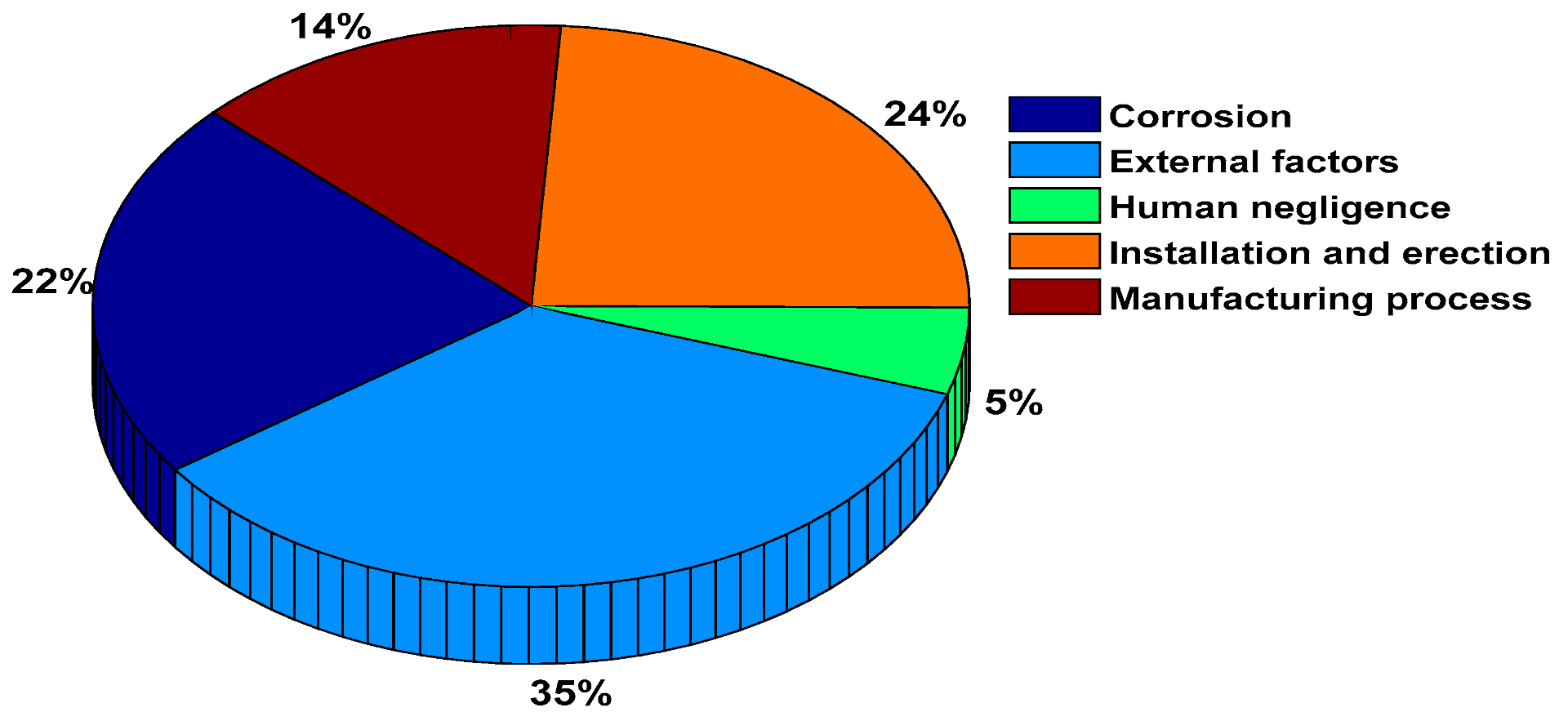 Source: Journal of Petroleum Science and Engineering
Addressing these challenges requires a comprehensive approach that includes advanced monitoring technologies, reliable communication systems, and effective data management and analysis. It also requires a focus on pipeline safety and security, with measures in place to prevent and mitigate potential risks.
Monitoring pipelines with Geo-AI
A recent EY survey stated that 58% of O&G industry leaders believe the pandemic has accelerated investments in digital technology. The world has more than 2.5 million kilometers of hydrocarbon pipelines, and leveraging Geo-AI data to continuously monitor the life of these high-pressure pipelines has become an industry imperative. Smart devices coupled with IoT sensors can capture a broad category of parameters and help monitor, manage, and optimize operations more accurately.
Accurate leak detection
Geo-AI can help detect and pinpoint leaks along oil and gas pipelines with high accuracy using remote sensing technologies such as satellite imagery, LiDAR, and drones. This enables immediate action to prevent environmental damage, avoid accidents, and minimize production losses.
Increased efficiency
Automation being a key feature of Geo-AI technology, this solution automates pipeline monitoring tasks, reduces manual inspection, and provides real-time data on the pipeline's health. This improves decision-making and maintenance scheduling, leading to better utilization of resources and reduced downtime.
Cost savings
Integrating Geo-AI solutions in oil and gas pipeline monitoring can greatly reduce the need for human intervention, saving costs. It can also minimize the financial impact of pipeline incidents by detecting and addressing problems before they escalate into major issues.
Data exploration and management
In the current scenario, multiple systems work independently, and the data/analysis is not shared with organizational departments. There is no single source of truth or a platform that consumes all the data and manages the system, which creates a lag between the information that is collected and disseminated across verticals.
Our solution
Cyient is in the process of building an enterprise-wide Geo-AI-based Linear Asset Management solution that primarily emphasizes the safety of pipelines, reducing risk, and improving operational efficiency. The key features are:
Building a single source of truth for assets
Monitoring the pipeline right-of-use
Oil and gas leak detection, including the hazardous methane gas
Land use along the pipelines
Vegetation encroachment and illegal tap
Identifying high-risk areas along the pipeline
Enterprise Asset Management integration to provide predictive and prescriptive analytics services
Check out how we helped a leading oil rig operator enhance safety and reduce downtime?
Given that earth observation is cost-effective for real-time monitoring of the pipeline, the solution uses varied spatial, temporal, and spectral resolution data in detecting anomalies, including leaks, encroachments, and other spatiotemporal changes. This data, when augmented with IIOT, enables detailed monitoring of assets in critical and sensitive areas.  The solution has been built using AI/ML with earth observation data from multiple sources covering optical, hyperspectral, and synthetic aperture radar of varied resolutions. It provides functionality for automated regulatory compliance as per the obligations set by Pipeline Safety Regulations from Petroleum and Natural Gas Regulatory Board (PNGRB), Pipeline and Hazardous Materials Safety Administration (PHMSA), and other authorities, which can be extended for ESG reporting.
Why Cyient?
Keeping the sustainability megatrend in focus and the industry's foray into adopting technologies promoting a greener tomorrow, Cyient offers flexible design solutions with a faster turnaround time to help our customers meet their business objectives consistently and cost-effectively. We enable oil and gas companies to harness data analytics, IoT, and asset health monitoring for powerful insights across key business areas to increase operational safety, productivity, and reliability while reducing costs and environmental impact.
We deliver core and adjacent solutions to the O&G industry to help them gain powerful insights across critical business areas, increase operational safety, productivity, and reliability. Our designs comply with stringent global oil and gas regulatory standards. Our first-time-right solutions are tailored for ease of fabrication, considering various yard constraints.
About the author
Diptesh V Kadam is a Gold medalist in Geology from The Maharaja Sayajirao University of Baroda. He has 16+ years of industry experience which includes 10 years in the field of O&G industry. His illustrious career includes expertise in surveying, planning, designing, operation and maintenance of pipeline. His areas of interest are building end-to-end geospatial solutions for Oil and Gas pipelines for better and safe operations.