Turning Circular
By 2030, the Circular Economy could account for one-sixth of the total economic growth, with circular models and regulations potentially reducing emissions and material waste in the automotive industry by up to 50%. Today, innovators are faced with the challenging task of designing products and services that are customer-centric as well as sustainable in compliance with stringent environmental regulations.
Circular Economy is no longer a buzzword. Regulatory policies demand higher accountability in terms of greenhouse gas emissions, carbon footprints, and environmentally responsible sourcing of resources and metals for battery production (in the case of Electric Vehicles). Trends like Connected, Autonomous, Shared, and Electric (CASE) are pushing the industry to embrace newer approaches, rethink value chains and do away with obsolete processes. These trends will require the industry to collectively adapt to an unprecedented shift in policies, redefined supply chains, sustainable concepts and designs.
Understanding Circular, Smart Value Chains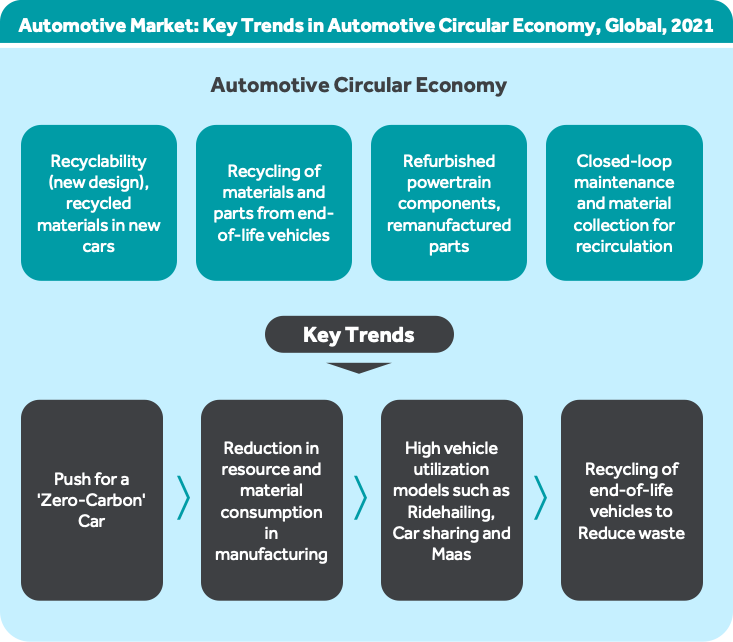 Reimagining the supply chain as a circular, smart value chain requires tracking of goods and resources using digital design tools. Integrating AI-powered systems enables the information base to intelligently track goods, support logistics delivery, predict ETA accurately and offer forecasts of stocks and supply chain networks. Trends like designing models with higher vehicle utilization rates, emphasizing on cradle-to-grave practices and recycling will gain traction over this decade. However, they may not always be favored by OEMs which calls for greater communication among all stakeholders.
Agile solutions to implement Circular Value Chains
Cyient and its German partner EOLOS have co-developed a proven tool box of solutions to enable companies to seamlessly transition from the existing linear or "throwaway" economy into a more circular one. It focuses on redesigning products, processes, and solutions to ensure minimal waste and optimized use of resources.
Value Chain Visibility: Cyient's Intelligent Value Chain Tracker records unique data properties, speeds up logistics, reduces consumption, and improves ROI. Its supply chain analytics tool covers consumption and demand forecasting as well as safety stocks, vendor management and should-costing models. In addition, Cyient has leveraged its value chain analysis tool to digitally enhance operational efficiencies and costs connected to its Digital "Intellicyient" suite.
Transitioning to Value Cycles: Cyient and EOLOS' Design for Circularity action plan offers a tailored roadmap to tackle material, packaging, and energy consumption. It empowers innovators to transform a value chain into a value cycle by redesigning processes to retain product and materials value, which subsequently value-adds from an ecological and economic standpoint.
As an example, Cyient's obsolescence management has been proven to save at least 10% of regular component costs for various industry partners. Additionally, a major logistics OEM was able to save ~18% per unit and more than €300,000 on an annual basis, based on Cyient's should-cost recommendations coupled with improved supplier negotiations.
Implementing Industry 4.0
This decade will see a pivotal mindset shift from a product life cycle-driven system toward a customer lifecycle-based offering. Innovators are reimagining operation cycles by leveraging digital or smart approaches. From predictive analytics, simulation, and edge and cloud platforms to digital twin technology and AI-based applications, the manufacturing world is exploring a plethora of possibilities. This is evident in Tesla's factories or GM's SUV assembly plant.
Holding data and applications in various silos and layers continue to be the immediate industry concern. This calls for greater integration and migration in a market with estimated global projections worth more than €50 billion by 2025.
Future-Proofing Businesses with Digital Capabilities
With Cyient's "Intellicyient" digital platform, a company can future-proof its ecosystem, whether in terms of automotive production or data management, leading to increased customer loyalty.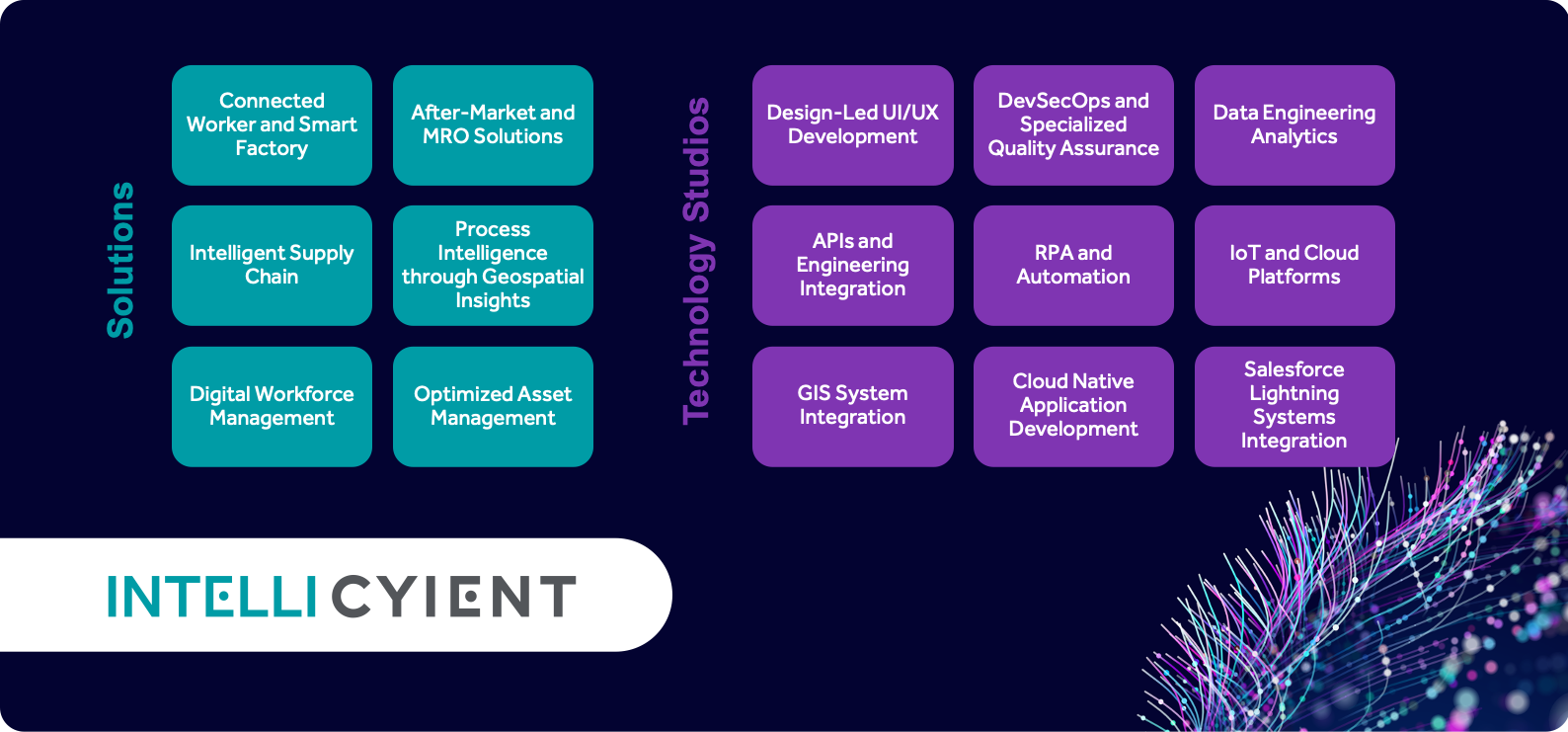 Intellicyient : Industry Applications
https://www.cyient.com/design-for-circularity: The factory floor will undergo a major remodeling; requiring high levels of interaction between disparate assets, processes, and people. Their confluence will help identify new patterns and correlations that can add significant value to everyday operations. These trends will require shop floor workers to evolve in tandem with smart factories. Workers would need to enhance their skills and be competent to engage with advanced applications and achieve productivity and efficiency targets in real-time.
In conjunction with private 5G networks, Cyient's implementation of smart factories improved productivity by 25% with machine monitoring and earning in a 1000 FTE-facility.
Digital Infusion and Readiness: With the surging volumes of data being generated, efficient digital handling becomes a key requirement. Cyient has proven competency in ensuring data safety and cybersecurity. It brings capabilities of digital verification and validation (V&V) such as in digital twin technology, in blockchain-enhanced project flows, additive manufacturing, and the setting up of private 5G networks.
Customer Centricity: Building a lasting relationship with customers with the aid of digital tools has often lacked the finesse for practical implementation. Cyient has built proven digital expertise in supporting assets over their lifecycle and facilitating customer service with convenient after-sales services.
Operational Efficiency Amplifier: Embedded with circularity, the Intelligent Supply Chain is another core tool of Intellicyient that has resulted in improvements of 20% in forecasting accuracy, 29% in stock reduction and $15 million savings on stocking costs for a Fortune 100 diversified manufacturer.
In another instance, Cyient has supported a mobility provider in Europe by taking ownership of the mechanical design of its taxis. Extensive reverse engineering efforts and innovative design concepts have led to smart production processes that supported a 30% reduction in design costs and 25% decrease in computing outlays.
Conclusion
Propelled as much by sustainability imperatives as by increasingly stringent environmental regulations, automotive companies will be among the front-runners in holistically embracing Circular Economy concepts and ideas of reuse and recycling. Over the next 3-5 years, a massive revamp of production approaches is expected across all major industries, most notably in the sphere of automotive production.
Part 2 of this Intelligent Automotive Series will explore the seismic shifts in the automotive industry as Virtualisation becomes a mandate to survive a disruptive ecosystem. If you would like to be notified about Part 3, Please follow us on LinkedIn for our news updates & Click here to know more.
### References: Figures and illustrations are developed with and by Frost & Sullivan, e.g. the MG08- Global Automotive Outlook 2021 report.
Please click here to read part 1 of the "Intelligent Automotive Series"