The impact of the global coronavirus epidemic is evolving by the minute. It is virtually impossible to look anywhere and not see a sign of the pandemic, which has affected our lives, our workplace, our communities, and homes. With several unknown elements to this outbreak and the situation continuing to unfold, it is challenging to assess what the future may hold.
The global aerospace and defense (A&D) industry has seen clear and immediate consequences. It is common knowledge in the industry that commercial aerospace has had the longest run of growth in decades, and globally defense spending has been on the rise in the years following The Great Recession. Historically, commercial aerospace boom cycles have experienced an average of 300% industry revenue growth before a market decline. Since World War II, defense spending has alternated between ten years of growth and ten years of decline on a 20-year cycle. The A&D industry was inevitably headed for a reset soon, and COVID-19 could very well have accelerated that shift.
Orders, Production, and Deliveries Experience Steady Decline
According to a Bloomberg news article dated March 10, approximately $200 billion of market value has been lost in the US aerospace industry alone. Since January 1, The S&P Aerospace and Defense Select Industry Index, which includes industry leaders such as Boeing, Lockheed Martin, and Northrop Grumman, is down over 40%.

Figure 1: SSIAD Stock Year to Date (1 January 2020 - 20 March 2020)
Teal Group stated that the closest proxy for the current situation is the post-9/11 market, which saw a contraction for Boeing and Airbus, and their constellation of suppliers, of roughly -11 percent revenue CAGR over three years. For the entire month of January 2020, Boeing did not have a single order for the first time since 1962. Airbus, meanwhile, experienced a strong finish to the year in January but followed in Boeing's path with zero orders in February. Deliveries have also been stunted recently, compounded by the issues associated with the 737 MAX.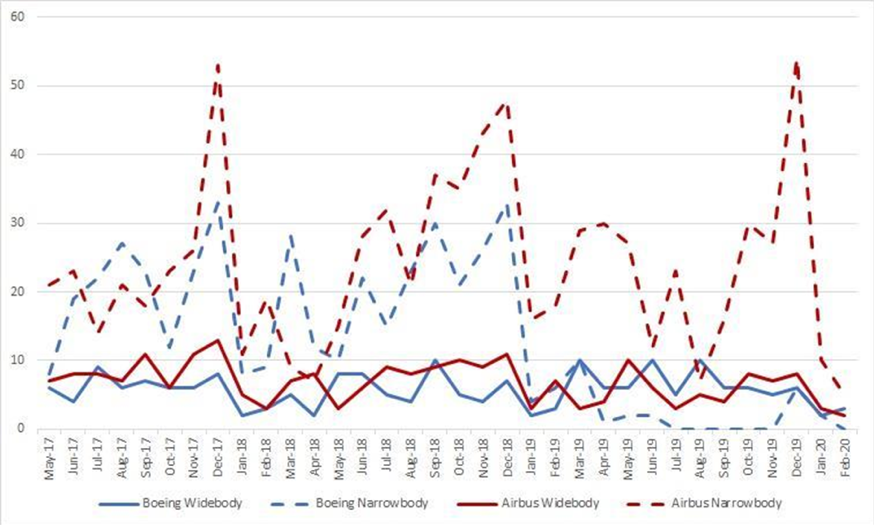 Figure 2:Boeing and Airbus Deliveries(Source: CAAP)
To manage the COVID-19 impact, Airbus is activating their Watchtower Committee. This committee replicates a post-9/11 process that analyzes the needs of the airlines over the next two years and allows distressed customers who may not need the equipment this year to delay aircraft orders while letting opportunistic buyers jump the queue. The process was undertaken between 2009 and 2011 and allowed the company to shift more than 600 aircraft around.
The Chinese aerospace manufacturing industry is a main supplier of multiple components used in many aircraft and was the first to feel the full effect of the virus. Airbus closed a factory in Tianjin, which is home to its completion center for the A320 and A350 models, for a short period in early February to stem the coronavirus outbreak. The factory produces six A320 aircraft per month, which accounts for 10% of their current deliveries. As of January, the plant had a backlog of 7,725, most of which are A320 and A330 models. China also supplies parts such as horizontal and vertical tails, doors, wing panels, and wire harnesses for every Boeing jet, including the 737 MAX, 777, and 787 Dreamliner. Boeing's detailing plant in Shanghai was temporarily closed in February. French aviation giant, Safran, which employs about 2,500 people across more than 20 Chinese cities, closed its manufacturing and maintenance facilities in China for an extended period.
Rethinking Supply Chain to Avoid Future Disruptions
While China is growing its aerospace industry and is set to overtake the US as the world's largest aviation market, it is crucial to understand the implications of the current coronavirus pandemic or even political clashes such as trade tariffs, and how they can impact the industry. Some of this demand can be fulfilled outside of China. According to a Frost and Sullivan report dated February 27, India stands to gain from China's production disruptions.
The report states that Southeast Asia has been attracting much of China's production business because of the US-China trade wars and that the coronavirus outbreak has intensified disruptions and further driven production away from China. Based on recent corporate tax cuts and India's overall economic strength, if manufacturers can diversify and withstand near-term disruptions in supply from China, this can be advantageous for India.
Airbus has announced that it has increased its sourcing from India to about $650 million annually, up from $500 million of annual sourcing. Airbus South Asia President Anand Stanley stated that "The design in India component has been growing at a fairly exponential rate, to the point where we believe in the next five years the $650 million can easily cross $1billion." On March 19, China reported no new cases of coronavirus for the first time since late January. However, the rest of the world is just beginning to feel the impact of the pandemic as Italy has enforced lockdowns, and the US, Canada, and most EU countries have closed their borders.
Defense Industry Not as Vulnerable
The defense industry should be better insulated than other markets as few programs rely on a global supply chain. Paul Sharre of the Center for a New American Security stated that trying to predict the supply chain's future is challenging and that government money is likely to keep coming for defense companies. On Thursday, the State Department warned that as a result of staff teleworking for the foreseeable future, the Directorate of Defense Trade Controls might be slow in responding to the industry's needs, which will result in delays in the US defense industry's exports.
According to Byron Callan of Capital Alpha Partners, "You might see those delivery delays crop up this April, May, June, July. That's conceivable, but I think we're talking about slight changes, nothing in the order of magnitude you're seeing in airlines and then by virtue, in commercial aerospace." Todd Harrison of the Center for Strategic and International Studies said: "social distancing" is in the nature of defense manufacturing work. "People are naturally spaced out," he said. "If you are a welder, other people aren't standing three feet away."
Some predict that long term, the coronavirus outbreak will result in a complete rethink of what supply chains are vital to US security. According to Martijn Rasser a senior fellow at the Center for a New American Security, "A first step once we get through this crisis is a whole-of-government effort, together with private industry, to really dive deep into our current supply chains and then determine which ones we should consider critical for US national security overall."
Planning for Recovery and Regrowth
Many businesses globally are attempting to get ahead of the curve and implementing policies that allow employees to take time off or work from home to avoid getting sick or infecting others. The CDC has recommended that businesses establish policies and practices, such as telecommuting and staggered shifts, to increase the physical distance among employees and that businesses ensure access to information technology and infrastructure needed to support multiple employees who may be able to work from home. The CDC has further suggested that businesses identify essential business functions, jobs or roles, and critical elements within supply chains required to maintain business operations. Additionally, they recommend that companies plan for operations if there is increasing absenteeism or these supply chains are interrupted.
As the impact of the coronavirus is fluid and ever changing, so are the needs of the A&D Industry as it braces for the fallout and rebuilds in the aftermath. Cyient is acutely aware that our customers are under constant pressure to innovate, adapt and overcome industry challenges and are now facing an unprecedented shift in our markets. Facing these challenges will require thinking differently about the market, which may include the creation of new business models, changes in the supply chain, digitalization and cost-optimization exercises. Cyient works with our customers to combine cost savings and digitalization by using data analytics to deliver Factory-of-the-Future capabilities providing immediate global connectivity between locations that are dealing with shutdowns, production delays, supply-chain disruptions, or staff shortages. Cyient recognizes that part of the rebuilding process is rethinking business models, and we help our customers through uncertain times through risk-sharing initiatives. We worked with an engine OEM through a War on Cost initiative and were able to achieve over $75 million in savings over six years for our customer by executing all tasks at our expense in exchange for a percentage of cost savings as new engines were manufactured. This effectively allowed the customer to use cash assets for other purposes, such as day-to-day operations.
This pandemic and its fallout are on a scale never seen before. As the world observes together how the virus and its aftereffects unfold, there are actions we in the A&D industry can take to protect our interests, and lessons we can take away from this experience to approach the future with a global mindset. Cyient stands ready to be your global engineering and technology solutions partner now, during this time of recovery and regrowth and in the future.