Operational bottleneck for EPCs
In industries such as mining, infrastructure, resources and energy, it is a relatively common practice to engage EPC contractors to handle engineering, procurement, and construction activities together for one project. This creates one comprehensive end-to-end process and provides a seamless experience for the client. However, it also often creates a situation where the EPC contractor is strapped for time and operational bottlenecks.
This is where GIS technologies step in.
EPCs play a major role in SmartCity planning and development. GIS complements EPC companies in building of Smart city infrastructure to enable various smart facilities like roads, multi-model transportation, command controls, smart grid, sewerage, emergency services etc.
In the modern world GIS technologies have evolved to an extent where it can be integrated with any of the modern technologies such as analytics, sensors and smart solutions. The advancements in GIS technologies like LiDAR and UAV surveys are becoming critical to the daily operations in the field to minimize the operational costs and risks while delivering greater value.
There are a number of ways in which GIS technologies can help. For instance, GIS technologies can provide simulation and predictive analytical capabilities which can help the project teams to take right decisions during the design stage, track the progress of the projects and control the project schedules. Then, spatial analytics provides perfect decision support systems that enable EPCs to plan their projects optimally and operate at lower costs and risks, especially when it comes to asset management.
How GIS technologies can provide end-to-end support for EPCs
For the past few years we have been interacting with various global EPC and helping them improve their operational efficiencies. That, along with our own research has given us valuable insights about how GIS technologies can support EPC projects very effectively. Here is a quick look at how GIS technologies can support EPC contractors at every stage of their process from design to implementation and operational support.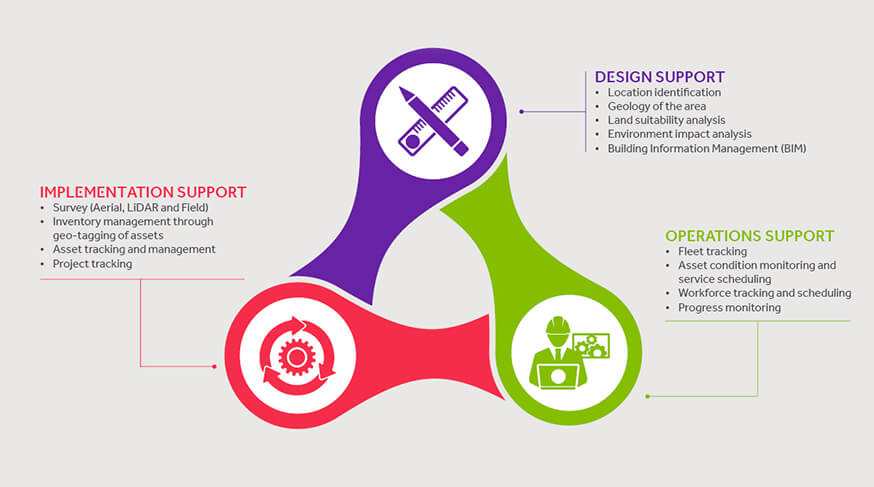 Business support
In addition to these, GIS technologies can also provide business support to EPCs. For instance, GIS technologies can help in project suitability analysis. This includes proximity analysis, accessibility of natural resources, climatic conditions and demographic analysis. EPCs can also understand about project sustainability analysis through marketability, demography and accessibility analysis, and supply chain management. Further, decision support such as integration with enterprise finance, asset and supply chain systems for EPCs can also be achieved through proper implementation of GIS technologies.
GIS technologies and the future of EPC
Over the years, GIS technologies have evolved to become a key platform for any location based solutions. They are now used to provide support for EPC contractors to fast-track their progression as well as ensure the sustainability of their long cycle projects.
Many infrastructure and EPC companies have realized this potential of GIS technologies and have started using these directly or indirectly to plan and manage their assets globally with better efficiency.
However, still the use of GIS technologies in EPC projects is still at an early stage and the companies who use these will have a competitive advantage over others. If you are a EPC contractor here is your chance to tap into the potentials of future.