Modern healthcare and medicine are not limited to R&D biotechnology or microbiology. And the coronavirus outbreak has brought this factor to the fore. Cut off from face-to-face doctor visits, travel for medical research and collaboration, and critical equipment and supplies, technologies such as IoT, augmented and virtual reality, and 3D printing are helping medical and healthcare professionals and agencies adapt in their response to the pandemic. Access to communication links, data, and targeted training is enabling workers from the research labs to be on the front lines fighting to contain the virus and treat patients.
Although the field of medical science has faced many crises over the centuries, the concern is mounting as to how the world shall combat a fast-spreading contagion to which a cure has not yet been discovered.


Reality Tech: From Fiction to the New Normal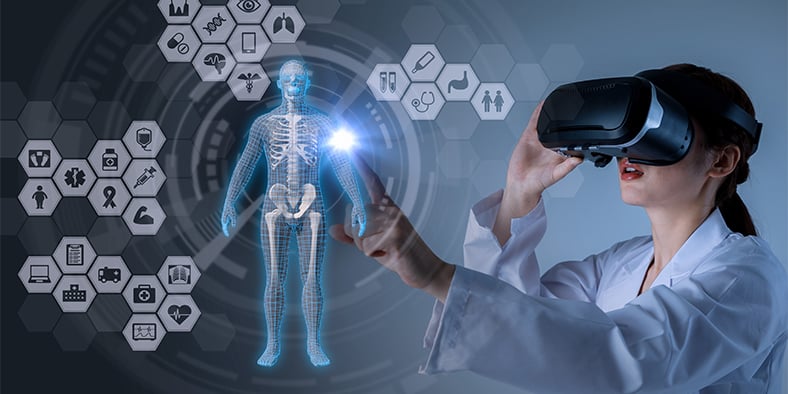 In the popular TV series Bones, the protagonist used a 3D simulation that renders content inside the volume of space—and this was in 2005. While it may have seemed a fantastic concept 15 years ago to use technology for forensic purposes and piece together vital anthropological evidence, medical science and digital technologies have progressed exponentially and can convert these ideas into actual applications today.
Augmented and virtual reality applications, today, are being increasingly adopted for training in the manufacturing and industrial domains and have emerged to play a crucial role in the medical field as well. Healthcare response teams can utilize AR/VR to process, understand, and disseminate information to workers on the front lines quickly and accurately. Digitalization initiatives across the world have helped translate the Industry 4.0 model into the healthcare segment, enabling "immersive healthcare" to play an essential role in the global response to COVID-19.


How Can Immersive Healthcare Help Combat a Pandemic?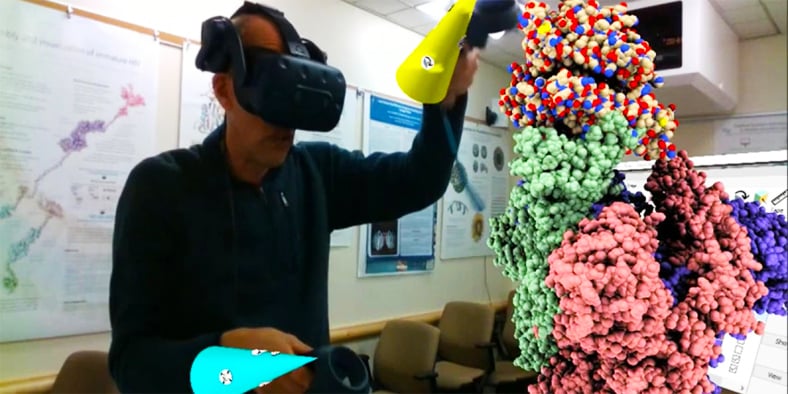 Source: Augmented Reality Aids in the Fight Against COVID-19


As the world battles the COVID-19, technology is playing a critical role in research, training, and communications.
R&D: Research teams, including analysts at the University of California San Francisco, are using mixed-reality technology along with conventional research techniques to study the coronavirus. Using high-resolution 3D models in a virtual reality environment, and advanced tools and applications, researchers are conducting an in-depth analysis of the novel coronavirus and enabling to develop effective responses through:
Global collaboration: Research teams from world over can log in remotely and participate in "virtual research," share data and work together.
Accurate Diagnosis: VR-powered healthcare techniques are being leveraged to mobilize cross-functional experts for a proper diagnosis or treatment plan.
Create Simulation Models: Using a combination of depth-sensing cameras and VR headsets, researchers can create simulations and accurate 3D models of the virus.
In-Depth Study: Develop models and study the coronavirus (SARS-CoV-2) molecule for better understanding of how the virus invades and binds onto healthy host cells and identify potential structural flaws to help combat it
Virtual Reality Training: Whether communicating information to healthcare or agency workers or the public at large, training in augmented or virtual reality can be more effective at getting vital information deployed to large or geographically dispersed groups. A team at George Washington University has created a virtual reality simulation of a lung infected by COVID-19. This app was intended to show the public the risk in a visually compelling way to convince them to follow guidance to keep themselves and others safe.
With travel restrictions and social distancing practices in effect, VR training can take the place of physical classrooms or field training to keep workers up-to-speed in the fast-changing environment.
Pathological diagnosis and treatment scenarios can be simulated in a virtual environment or augmented in a live environment for guided training of healthcare practitioners, students, as well as patients.
The simulated environment can provide more useful insight and increased retention when 3D models and realistic visuals replace verbal training, text, or 2D diagrams.
VR training can be quickly modified and deployed as new information or techniques become available.
Simulated Response Scenarios: As countries and regions develop and execute emergency response plans, VR technology has been extremely fruitful in the simulation of response scenarios. VR can enable simulating the conversion of available infrastructure into quarantine or treatment facilities, providing insight for effective planning, virtual walkthroughs to prepare workers, or for real-time communications with agencies and the public.
Virtual reality simulation is used in new product design and development and could help companies working on modifying products or production lines to bring new capability online in response to critical supply and equipment shortages.
ARVR technologies are proving to be an effective and adaptive tool for the medical and healthcare industry during the COVID-19 pandemic response. It is in such extraordinary times that these technologies demonstrate how organizations and teams can collaborate, respond quickly, and stay connected even in the face of social distancing and isolation.
As in-person appointments and handshakes are replaced with conference calls and virtual rooms, digital technologies are transforming the way healthcare is delivered today. Cyient's AR and VR solution overlays digital information in real-time to provide data-enhanced, immersive experiences for medical workforce training and maintenance and repair requirements. This helps stressed healthcare and medical professionals stay safe as they work to slow the spread and eradicate the coronavirus.
Sources:
Four Pragmatic Ways Immersive Healthcare Can Help Alleviate the Corona Virus Outbreak
How VR and AR Can Help in a Pandemic