Medical technology products frequently face pressures of changing economies, intense competition, and evolving healthcare systems and procedures that affect their value. Considering this, assessing their value for the marketplace is significant and unique in comparison to any other industry. This is because the medical industry and the players operate in two different markets. In the established markets, macro factors mentioned above are compelling the medical OEMs to improve efficiency and optimize cost. In developing markets, not only the demand for new methods of treatment is high, but they are also very price-sensitive. Companies recognizing these factors are examining the product management life cycle from the perspective of bringing in new efficiencies and cost savings to measure the competitiveness. The focus is on deriving the most value from the products by looking at new methods of product designing such as Value Engineering.
Value engineering is an international standardized process. At its core, value engineering uses a highly structured methodology that examines all aspects of design, function, quality, and performance requirements with a goal of enhancing the overall value. It isn't a typical cost reduction program which could potentially denigrate the product or cut corners and quality, but is an in-depth study across multiple departments looking not only at product functions but possibly organizational functions as well. For example, the product planning and design team and the procurement managers may not have worked together to understand that some parts of a product could be substituted by sourcing elsewhere. Value engineering process identifies such opportunities to keep the quality and functionality of the product intact, while bringing down the cost.
So, how exactly will this concept address the macro factors and help shape the future of the medical industry? The answer lies in decoding the value engineering methodology. This method has three main stages consisting of eight total phases, which may involve other types of engineering processes and analysis to discover potential changes for cost reductions and improvement in value. Other solutions could include performance and functional enhancements, alternate manufacturing processes, modeling and prototyping, reverse engineering, redesign, as well as product and other engineering optimizations.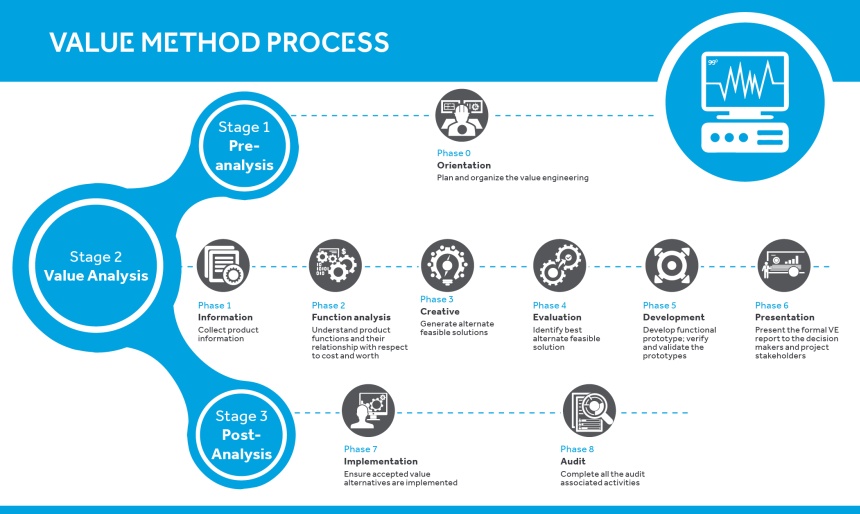 The world that we do business in today needs faster response time to meet market needs and demands. Companies need to manage their investments optimally by looking at opportunities that provide an ecosystem of global resources, sourcing, production, supply chain, and markets. Viewed from this perspective, business partnerships not only play a major role at the product design stage but also in improving efficiency and reducing costs. Also, the essence of this partnership should mostly vest on the scale of value engineering experience that the partner brings in, the capability and expertise they demonstrate, and their understanding of working in MedTech regulatory and quality environments.
For example, we recently worked with a leading medical device manufacturer to reduce their overall product realization costs by modifying the product design without affecting its regulatory status. Our team generated over 100 concepts by targeting more than 900 functional components and completed 25 change request enhancements to improve overall features and reduce product costs by 23%. This was right in the cost reduction zone of 15 to 25 percent that Cyient commits to when taking up a value engineering project.
The medical industry is evolving globally. In this dynamic market, the companies that fail to recognize the need to implement a value engineering or similar process for their products or organization, run the risk of not only losing their investments but also the market relevance of their products.
To learn more about the Value Engineering process and its benefits download our white paper 'Value Engineering: Assessing Costs, Quality, and Performance'.
Did you enjoy reading this post? Let us know your viewpoint by leaving a comment in the section below.
Dig deeper:
Associated reading