VUCA (Volatility, Uncertainty, Complexity, Ambiguity), first coined in 1987, has been part of the business lexicon for over three decades. Yet, a VUCA situation of a degree and impact as the COVID-19 pandemic is unprecedented. I have heard people compare COVID-19 to 9/11 and the 2008 global financial meltdown. But these are in no way comparable. The scale, impact, lives lost, jobs vanished, the quantum of uncertainty involved in today's crisis is something we haven't experienced in our lifetimes. Indeed, a black swan event that has thrown societies and economies into chaos.
Business Leadership in Uncertain Times
Organizations are battling uncertain times, placing extraordinary demands on leaders. We do not know how long the crisis will last and the extent of its impact. So, it is prudent to balance immediate, tactical actions with short- to medium-term strategic moves to ensure organizations emerge stronger from this crisis. In this article, I am calling out a few imperatives that business leaders should adopt in these uncertain times:
Tactical, Immediate Response
Employee Safety and Business Continuity: Put people first—this is the primary responsibility of leaders in any crisis. Implement the prescribed health advisories and emergency measures to minimize the risk to associates and ensure their safety and wellbeing.
Senior executives will quickly realize that traditional, centralized, and top-down approaches to work will jeopardize business continuity. To respond effectively, organize a network of multidisciplinary teams that are united by the common purpose of crisis management. Typically, a leader's instinct in times of crisis is to consolidate decision-making and control information. However, in this case, doing the opposite—sharing information, being transparent, and decentralizing decision-making—inspires teams to follow suit.
Financial Prudence: The pandemic hit us at a time when the global economy was already under stress. COVID-19 is compounding the situation, and entrepreneurs and business leaders are adopting new sets of rules to exercise financial prudence. Indeed, "cash is king" now. Companies are facing liquidity challenges, along with tightness in supply chains, and high inflationary pressures. So, take an end-to-end stock of your cash flow, release the barriers if any, set up short term financial goals, ensure liquidity and access to capital. A paradox as it may seem, balance empathy toward customers while organizing timely billing and collections. Defer capital expenditures, non-essential projects, and expenses that are not a priority. Keep all investments adequately liquid to address contingencies and short-term needs. Simultaneously, evolve back-up plans.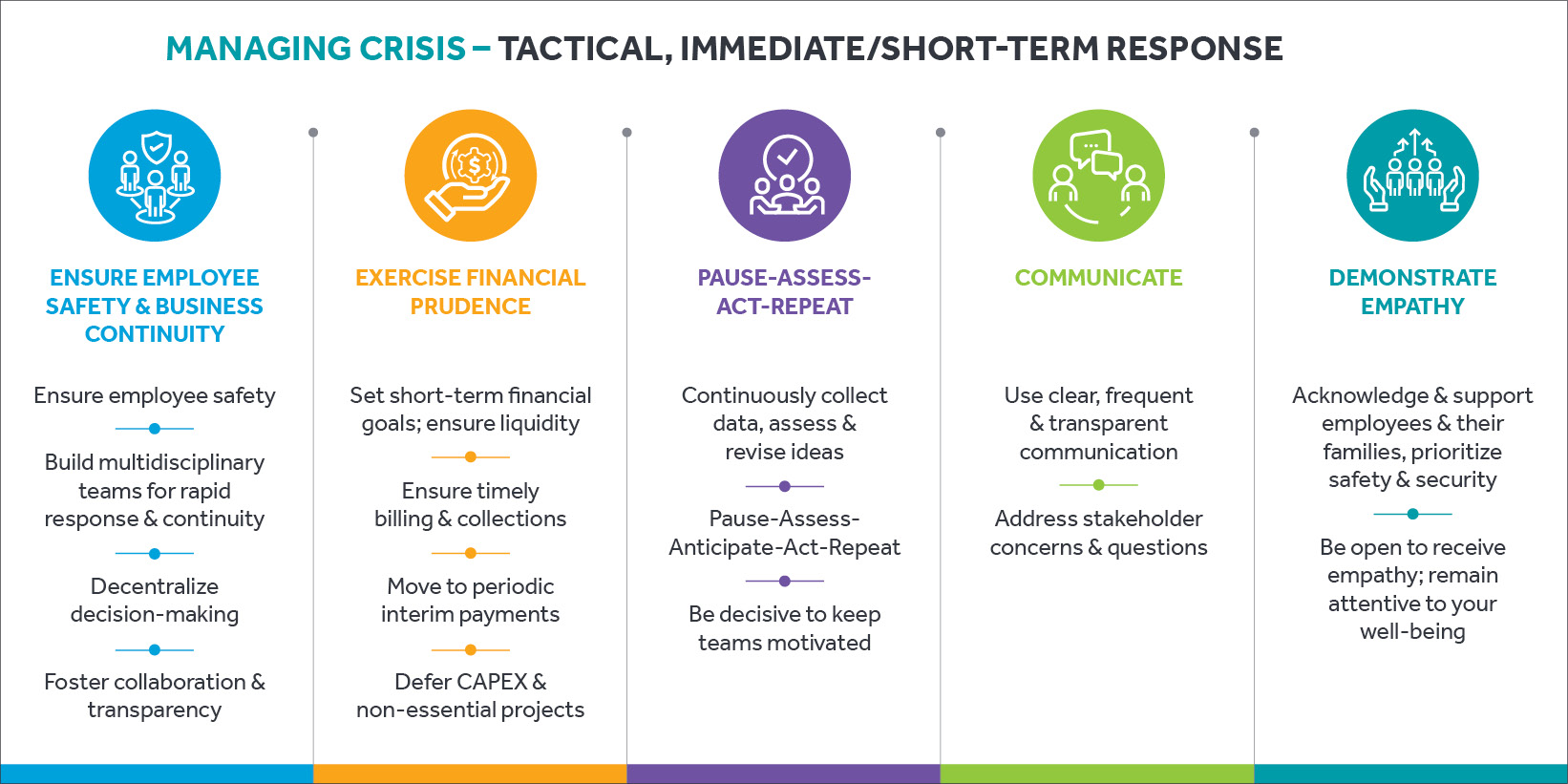 Figure 1: Tactical, immediate response business leaders can adopt during Covid-19
Pause-Assess-Act-Repeat: The coronavirus crisis is a developing situation, and often, complete information is not available within the necessary time frame. That shouldn't prompt leaders to rely on intuition alone while making decisions. One good strategy is to collect information continuously, pause periodically from crisis management, assess the situation from multiple vantage points, tailor-make responses, and act. Repeat the approach at short intervals to strike a balance between knee-jerk reactions and long-tail strategies. Review periodically to integrate new information and insights. Revise previous decisions to assess what needs to be modified, adapted, or discarded. Once you decide, implement your decisions with resolve and agility.
Communicate: People's resilience is getting tested by the prolonged crisis, and stakeholder morale is at an all-time low. So, communicating frequently and transparently with employees is essential to retain their confidence in the organization and leadership. Communicate clearly with customers and shareholders. Be thoughtful and authentic and address each stakeholder group's concerns, questions, and interests. Provide an optimistic yet realistic view of things that can boost the morale of employees and stakeholders. Additionally, activate communication mechanisms at every level in the organization to connect and comfort.
Demonstrate Empathy: Leadership in a crisis has no prescribed rulebook or proven technique. While you take every action to sustain the business, a crisis is when leaders need to uphold a vital aspect of their role—to make a positive difference through empathy. Make efforts to understand how the pandemic is impacting people and acknowledge the challenges employees and their families face. Be mindful of the struggles of travel bans, lockdowns, quarantines, and scarcity of essentials. Prioritize employee safety and wellbeing, take specific measures to support. Simultaneously, be open to receive empathy from others and remain attentive to your wellbeing. This is essential to de-stress, stay level-headed, and exercise good judgment throughout the crisis.
Strategic, Short-Term/Medium-Term Response
As management battles with the crisis and keep the business alive with short-term responses, leaders start gaining grips over what they should do and what they shouldn't do vis-à-vis their core business in the medium-term. Here are some considerations for the short-to-medium term.
Build and Improve Customer Trust: With the coronavirus impacting bottom lines, customer needs have shifted dramatically. Several relationships have landed on shaky ground, and customer experience has taken a new meaning. An organization's first response, especially in the technology services sector, is to ensure continuity and on-time delivery of existing projects. While maintaining consistent communication, help the customer address their changing needs with agile innovation and higher value proposition. View your customers as partners, pivot quickly, provide proactive guidance to minimize risks, and demonstrate financial and operational flexibility. The key is to see this difficult period as an opportunity to build trust.
Let me cite an example. We, at Cyient, were beginning to ramp up an aerospace customer account when 9/11 happened. Though we had the purchase order, we stopped ramping up the project and stopped all new recruitments upon customer request. Things were in a complete standstill for about six months. During this period, we fulfilled our commitments and ensured on-time delivery, quality, and periodic customer feedback. This established the foundation of a long-term and deep-rooted relationship that we were able to scale once the industry opened up.
Accelerate Digital Transformation: Today, digital is the preferred option for every interaction and transaction. Social distancing and lockdowns have made it amply clear that digital transformation is indispensable for future organizations. Business leaders must reassess their digital roadmap, the assumptions around value and feasibility based on emerging customer needs, supplier dynamics, and the prevailing regulation as a priority.
As I pen this article, I hear Satya Nadella say that "Microsoft saw two years of digital transformation happen in two months." So, now is the time for bold action. Tightly integrate digital strategies across the organization, scale-up actively, test, and improve. Leverage design thinking, agile innovation models into new offerings. Adopt appropriate platforms, automation, and cloud to bring additional benefits.
Figure 2: Strategic, short-term/medium-term response business leaders can adopt

Business and Operating Model Shifts: Anticipating prolonged crisis and unpredictable recovery organizations have taken an end-to-end view of their business and operating models. It will be prudent to bring a renewed focus on areas that are core to the company than make minor improvements to non-core areas. (Re)evaluate, (re)calibrate, and evolve the portfolio to match the external pace of disruption and customer needs and simultaneously build scale, resilience, and efficiency. Take cognizance that operating models will see permanent shifts from a highly centralized delivery model set in large campuses to a distributed model, functioning in extended environments, aka employee homes. This warrants an overhaul of project management practices, cyber-security protocols, work monitoring and reporting structures, productivity benchmarks, etc., to ensure continuous project quality and security.
Create a Talent Roadmap: As the extent of impact unfolds, leaders may be burdened with difficult decisions. To top that, organizations have to ramp up their people strategies to be future-ready. Skills will be under severe stress. I will advise business leaders to adopt a through-cycle mindset on people, where you keep the right talent but also build on the skills of existing resources. Build teams with interdisciplinary skills. Prioritize rapid upskilling and reskilling through remote workshops, webinars, self-serve modules, and simulations. Encourage collaborative learning supplemented by rigorous certification programs and in-field trials to accelerate learning. Ensure critical skill pools are ready for the new business strategy with enough built-in resilience.
Conclusion
Effective leadership isn't immutable or carved in stone. Crises often overturned established leadership norms and swept aside executives who didn't adapt. In times such as these, the ability to survive and thrive will depend on how well one can process the reality of the situation. While you realize the challenges, it is imperative to be steadfastly optimistic and maintain unwavering faith that you will survive and emerge stronger than before. The mantra is to strike a balance between optimism and realism.