Introduction
The oil and gas pipeline industry is a highly regulated sector due to the high risks involved in the transportation of crude oil and high-pressure gas over long distances. Globally, the network of oil and gas pipelines spans over 2,069,000 kilometers. India has about 29,000 kilometers of transmission network, of which approximately 20,000 kilometers is dedicated to high-pressure gas transmission. The construction of high-pressure pipelines involves crossing barren lands, agricultural areas, forests, urban land, and rivers. Major sections and stations of these pipelines are constructed in open areas to reduce the impact of any untoward incidents or disasters. Real-time monitoring of these pipelines is essential to ensure efficient and effective operations.
The pipeline transmission network faces several challenges which include land use changes due to urbanization, aging infrastructure, oil or gas spills, and asset health. Pipeline regulatory compliance is another significant challenge, considering the extent of violations in health, safety, and environmental aspects that lead to huge penalties for most oil and gas companies.
To address these challenges, a cost-effective solution that leverages earth observation (EO) technology has proven especially useful. This solution utilizes spatial, temporal, and spectral resolution data to detect anomalies such as leaks, encroachments, and other spatial-temporal changes along the pipeline. The solution is augmented with the Industrial Internet of Things (IIoT) to provide detailed monitoring of assets in critical and sensitive areas. It also employs artificial intelligence/machine learning (AI/ML) algorithms to analyze earth observation data from multiple sources covering optical, hyperspectral, and synthetic aperture radar (SAR) of varied resolutions.
The solution provides automated regulatory compliance functionality as per the obligations set by pipeline safety regulations from authorities such as the Petroleum and Natural Gas Regulatory Board (PNGRB), Pipeline and Hazardous Materials Safety Administration (PHMSA), and others. The solution also lends itself to Environmental, Social, and Governance (ESG) reporting.
Regulators worldwide are implementing new safety regulations for pipelines, with PHMSA's Mega Rule recently pressuring operators to use technology in daily operations for safer execution. Due to operational negligence, there have been incidents of theft, particularly of crude oil pipelines, resulting in financial losses and weak links in the system. Pipeline explosions due to operational negligence have resulted in massive loss of life.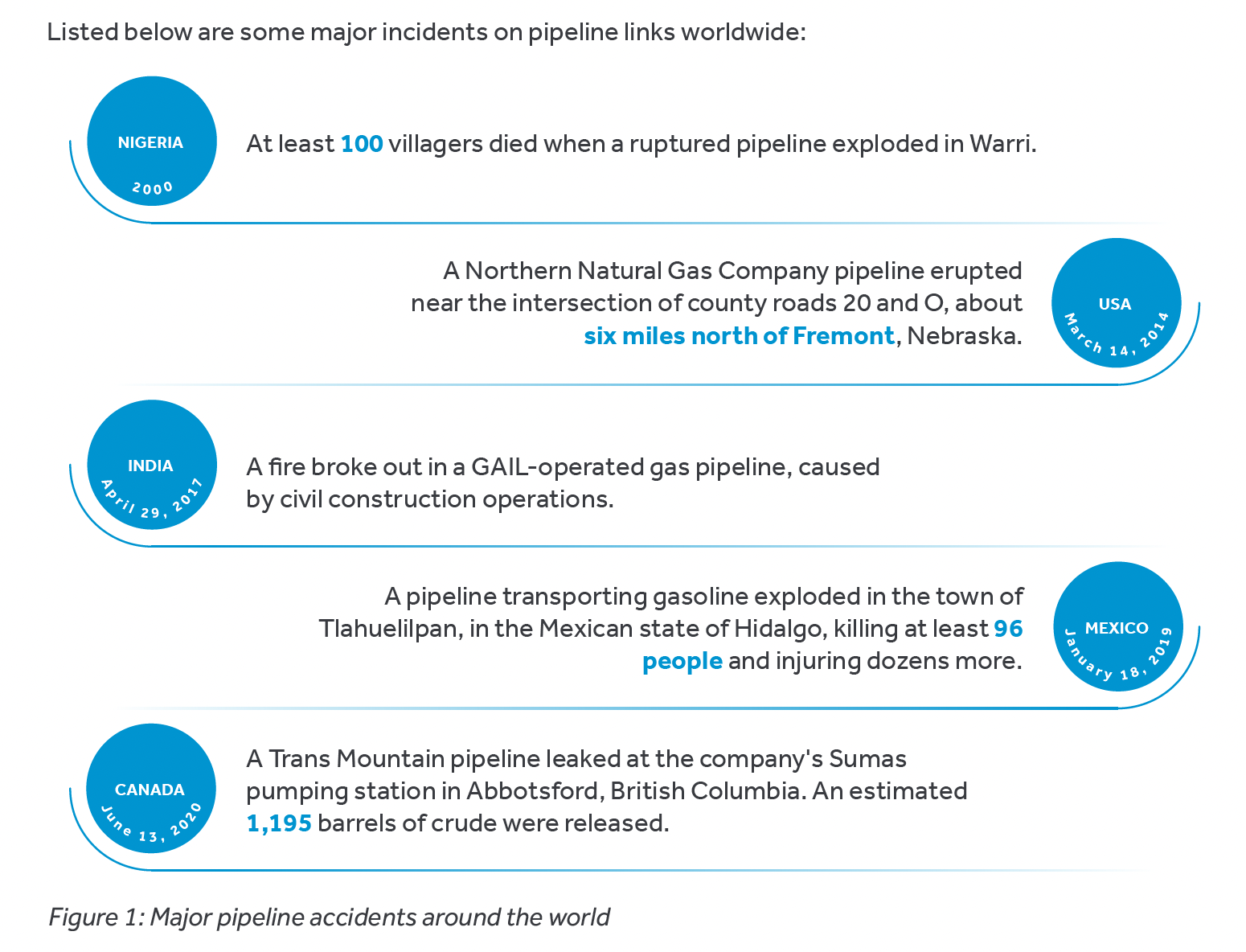 The highly dynamic nature of the industry and the need for accurate document management have underlined the need for digitization. The encroachment of man-made and natural objects along the ROW of pipelines triggers third-party damage, while aging infrastructure and the disconnect between the field and office create additional challenges.