Healthcare
Robotic Surgery
Robotic surgery is gaining popularity today due to advantages such as minimized pain, precise cuts/operations, faster recovery time, and the unique capability of operating and monitoring robotic surgery remotely. It enables doctors to perform surgeries from various locations without any travel or the need to be physically present. This is beneficial for both surgeons as well as patients.
Edge analytics plays a vital role in robotic surgery equipment. The major components involved are robotic arms with precise movement control and high-resolution camera with depth sensor. The system performs all its movements considering a reference point. The edge computer gets inputs from camera, doctor's instructions, and current position of the arms. After receiving this data, a pretrained AI model processes all this input data and calculates the destination position and angles of the robotic arms using reverse kinematics.
Once the movement path data is available, corresponding movement commands are given to the robotic arms. Arm movements are continuously monitored by the edge computer using the motor feedback data and camera— open loop and closed loop control systems. If any dynamic obstacle appears in the movement path, the movement path will be recalculated and new path commands will be issued to the robotic arms. The edge computer also needs to have backup safety mechanism and a safe state of operation.
All these operations need to happen in real time with very small latency, in milliseconds. Due to the type of application and its time criticalness, most of the decision-making and monitoring activities are performed by the edge computer. The events, reports, and recorded logs are transmitted to the cloud. In case of remote surgery, live video-frames get transferred through a high-speed secured Internet channel like 5G or broadband.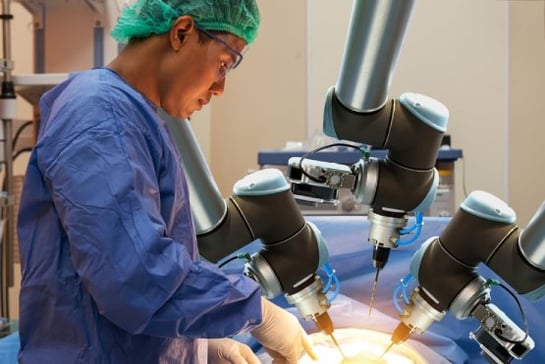 Automotive
Autonomous Driving and Smart Infrastructure for Efficient Mobility
Autonomous driving capability is a special edge computing case, as significant compute power is necessary to run the driving algorithms in real time within the control unit in the vehicle. The usage of edge analytics can also be found in smart infrastructures such as 5G base stations, traffic lights, or intermediate smart routers. This enables much higher efficiency and throughput at intersections.
Take the case of a complex and heavily used intersection with five roads and long waiting times for each vehicle at the traffic lights. Autonomous driving alone would not eliminate waiting times, as it respects the timing of the traffic lights. But when an edge node is installed at the intersection to which the vehicles connect when approaching the intersection, they can receive their trajectories from the edge node. This edge node can do an orchestration of all the nearby vehicles instead of separate computation of each vehicle.
If this solution is then extended to include charging planning for electric vehicles, mobility can become even more efficient. The edge node at the charging station would then be able to plan upcoming charging processes and optimize the reservations according to various criteria, including waiting time or maximum charging rate.
Adaptive Predictive Maintenance
Automotives of the future will be known for their performance and high driver engagement. The battery in these vehicles with an electric drive needs to deliver this at its possible best. To achieve this, battery monitoring and predictive maintenance are essential.
Battery maintenance and charging depends on dynamic situations (tire pressure, acceleration, traffic, charge cycles, driver habits), when the car is actually running on the road. Better optimized performance and mileage can be achieved by analyzing and processing usage data, which is not available at the time of production.
Edge computing can enable this with the ability to aggregate data and near-real-time evaluation of relevant battery parameters and sensor values. As this has a direct impact on customer experience, it is highly relevant for car manufacturers and car network providers with electric vehicles in their fleets.