Network Inventory Implementation
Cyient offers end-to-end network inventory implementation, to improve operational efficiencies across processes spanning network design and expansion, service delivery and provisioning, fault management, and network maintenance.

Our network inventory management services include:
- Data evaluation
- Analysis and manipulation
- Data capture, migration, & conflation
- Positional accuracy improvement
- Network quality augmentation
- OSS synchronization
- Software as a service
- Data life-cycle management
Network Provisioning
Cyient's comprehensive portfolio of network provisioning services allows CSPs to make a smooth transition from legacy Synchronous Digital Hierarchy (SDH) to dynamic Internet Protocol (IP) and Multiprotocol Label Switching (MPLS) networks. We leverage our domain expertise, industry-certified resources, and automation platforms to offer network and security provisioning services spanning designing, building, and operating switches, routers, gateways, firewalls, access points, aggregation nodes, network termination units (NTUs), router reflectors, and load balancers.
Service Management and Assurance
Cyient delivers future-ready IT Service Management (ITSM) capabilities, aligned with the latest industry standards and best practices. Our services include commercial off the shelf (COTS) application deployment for fault management, performance management, and trouble ticketing. We also build custom solutions for specific client scenarios. Further, Cyient provides end-to-end support for ITSM across architecture and design assistance, maintenance, upgrades, expansion, SLA management, and workflow optimization, allowing CSPs to focus on their core competencies.
Application Development and Support
Cyient provides a comprehensive portfolio of application development and support services for CSPs, including systems analysis, solution architecting, design, development, testing, and training. Our Application Management and Support (AMS) services comprise a set of process frameworks and a flexible governance model - built to improve productivity, and achieve better operational and cost efficiencies. We also offer custom solutions for effective field operations and workforce management, structural integrity assessment of aging asset infrastructure, and outage management.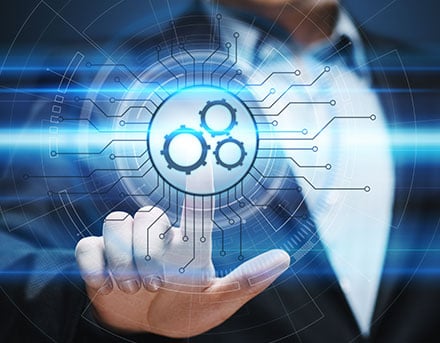 Test Services and Automation
Cyient leverages a skilled team, proven tools, and standard industry methodologies, along with a unique approach to validation and verification to deliver a full spectrum of telecom testing solutions and services.

Automation reduces test data analysis time by up to 80%.

The software testing life-cycle methodology ensures that design test scenarios and cases, test execution, defect reporting, and bug fixing, are reviewed before the final audit, and approved by the client.